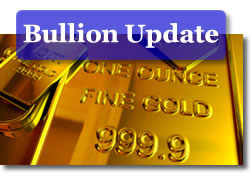 Gold closed a bit down in normal trading hours Tuesday but then tumbled in electronic trading after minutes from the Fed's latest policy meeting revealed that policy makers were less keen on another round of quantitative easing.
"The Fed has distanced itself from QE3. It's in line with what Bernanke said in February, but nonetheless it's enough to reduce the near-term bullish momentum," Reuters quoted James Steele, chief commodity analyst at HSBC.
Spot gold was last quoted down $32.30 to $1,644.70 while silver had dropped 37.0 cents to $32.62 an ounce. Losses in PGM metals were modest with platinum off $7.00 to $1,640.00 and palladium last quoted down $4.00 to $652.00.
In normal trading hours:
Gold prices for June delivery settled down $7.70, or 0.5%, to $1,672.00 an ounce on the Comex in New York. Prices traded between an intraday low of $1,653.50 and a high of $1,682.70.

Silver prices for May delivery closed to $33.265 an ounce, advancing 16.7 cents or 0.5%. Silver reached a low and high of $32.635 and $33.295.

Platinum prices for July delivery ended up $5.60, or 0.3%, to $1,660.50 an ounce, trading between $1,646.30 and $1,671.00.

Palladium prices for June delivery added 80.0 cents, or 0.1%, to $659.60 an ounce, ranging from $651.50 to $664.20.
London Precious Metals
London precious metals were mixed Tuesday with all but gold making an advance. When comparing the most recent London PM fixings:
Gold declined $1.25, or 0.1%, to $1,676.25 an ounce,
Silver was up 55.0 cents, or 1.7%, to $32.97 an ounce,
Platinum gained $18.00, or 1.1%, to $1,659.00 an ounce, and
Palladium rose $4.00, or 0.6%, to $660.00 an ounce
U.S. Mint Bullion Coins
Bullion coin gains on Tuesday were limited to two U.S. Mint products. The American Gold Buffalo added 2,000 and the American Silver Eagle added 125,000.
The following are the most recent daily, April and year-to-date bullion coin totals as provided by the U.S. Mint.
Sales of U.S. Mint American Eagle and Buffalo Bullion Coins
Daily Gains
April Gains
YTD 2012
American Gold Eagles (1 oz.)
0
3,500
165,500
American Gold Eagles (1/2 oz.)
0
0
51,000
American Gold Eagles (1/4 oz.)
0
0
40,000
American Gold Eagles (1/10 oz.)
0
5,000
135,000
American Gold Buffalo Coin (1 oz.)
2,000
3,000
49,500
American Silver Eagles
125,000
320,000
10,459,000
Sales of America the Beautiful 5 Oz. Bullion Silver Coins
Prior Weekly
Weekly Gains
All-Time Total
Olympic National Park 5 oz. Silver Coins
200
0
85,100
Vicksburg National Military Park 5 oz. Silver Coins
200
0
38,300
Chickasaw Park 5 oz. Silver Coins
0
0
28,700
TOTAL
400
0
152,100
All bullion sales in the above tables are in number of coins sold, not in the amount of ounces sold. The U.S. Mint has not sold five ounce bullion silver coins since Monday, March 26.