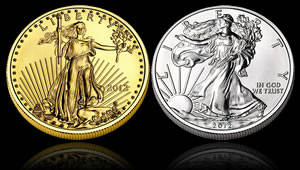 Sales of American Eagle gold and silver bullion coins rebounded in March as investors bought on multiple pricing dips. With gold falling 1.3% and silver tumbling 6.2% last month, buyers were able to scoop up United States Mint bullion products at comparative bargain prices.
American Eagle Silver coins reached 2.542 million, up 70.6% from February when dismal sales of 1.49 million were logged. The pace, however, was off 8.1% from the same time a year ago.
A near tripling occurred for 22-karat American Eagle Gold bullion coins with U.S. Mint distributors taking 62,500 ounces versus the prior month's 21,000. But again, sales were slower than last year to the tune of 15.0%.
While the latest American Eagle data consists of inventory produced this year, the U.S. Mint continues to sell 2011-dated bullion products. Some were 24-karat American Gold Buffalo bullion coins, but not many as 2012 Buffalos were introduced on March 5. Investors and collectors like newly dated issues and that was a major component in driving up demand last month. Buffalo sales surged to 26,000 ounces, the best monthly tally since 28,000 were taken in August and easily outpacing the 7,000 in February and 13,500 in January. But yet again, the level was sharply lower than the same time last year as the 2011-dated Buffalos were also released in March and 38,000 were claimed.
2011 America the Beautiful Five Ounce Silver Bullion Coins account for the remainder of older coins sold. Of these, 1,800 were purchased. Just 300 moved in February. The U.S. Mint has not announced when it will begin offering the 2012-dated coins.
For reference, the following table provides U.S. Mint bullion figures by month and year.
January-March and YTD 2012 U.S. Mint Bullion Coin Sales
Jan 2012
Feb 2012
Mar 2012
YTD 2012
American Eagle Gold (1 oz)
84,500
20,000
57,500
162,000
American Eagle Gold (1/2 oz)
49,000
0
2,000
51,000
American Eagle Gold (1/4 oz)
38,000
2,000
0
40,000
American Eagle Gold (1/10 oz)
85,000
5,000
40,000
130,000
American Buffalo Gold (1 oz)
13,500
7,000
26,000
46,500
America the Beautiful Silver 5 oz Coins
5,700
300
1,800
7,800
American Eagle Silver
6,107,000
1,490,000
2,542,000
10,139,000
All bullion coin totals in the above tables are in the number of coins sold, not the amount of ounces. For always updated figures, visit this site's page of American Eagle sales.