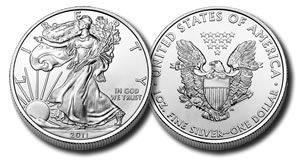 Last month turned out to be the best ever May and the fourth best month in history for United States Mint American Eagle Silver bullion coins.
Despite a United States Mint allocation policy which limits the number of Silver Eagles sold to its distributors through rationing, a total 3,635,500 of the .999 fine silver bullion coins were sold in May 2011. Sales easily exceeded last month's, which came in at 2,819,000 — a top fifteen all-time month in its own right.
In fact, May 2011 was the second best level of the year, behind January 2011, and topped very robust sales from the same time last year. The three months mentioned, as shown in the table below, rank #1, #4 and #5 in all-time monthly sales.
Top Ten American Eagle Silver Monthly Bullion Coin Sales
| | | |
| --- | --- | --- |
| 1 | January 2011 | 6,422,000 |
| 2 | November 2010 | 4,260,000 |
| 3 | December 1986 | 3,696,000 |
| 4 | May 2011 | 3,653,500 |
| 5 | May 2010 | 3,636,500 |
| 6 | January 2010 | 3,592,500 |
| 7 | March 2010 | 3,381,000 |
| 8 | February 2011 | 3,240,000 |
| 9 | October 2010 | 3,150,000 |
| 10 | March 2009 | 3,132,000 |
Year-to-date sales by the end of the month stood at 18,901,500. This year is already on target to become the best year for the coins, with expectations that it will surpass the current annual record of 34,662,500 which was achieved last year.
The United States Mint has been producing American Eagle Silver Bullion Coins since 1986. Demand for the silver pieces has soared in recent years, resulting in the aforementioned rationing of the coins. In an attempt to increase quantities, the Mint last month began producing the bullion Silver Eagles in San Francisco, in addition to West Point where they had been solely minted for a decade. Monthly sales levels, should demand hold, will only increase.
Bullion coins are different than the collector counterparts. Every American Eagle Silver coin is struck from .999 fine silver and shares the same obverse (heads) and reverse (tails) designs. In key differences, the bullion coins do not have a collector finish nor do they feature a mint mark denoting where they were produced. The numismatic American Eagle Silver coins have a proof or uncirculated finish collectors prefer, and also bear a West Point "W" mint mark.
Another major difference is how the coins are sold. The proof and uncirculated collector coins are sold directly by the United States Mint to the public through its website and customer service call centers. The Mint sells American Eagle Silver Bullion Coins only to a small group of companies who are known as "Authorized Purchasers" or APs. The APs then resell the coins for a small premium over the current spot of silver to secondary market dealers or to the public.