Featuring a portrait of Julia Grant, the first 2011-dated First Spouse Gold Coin sold out Friday afternoon with ending sales under 4,000. Last listed at a price of $1,004.00, the U.S. Mint website is showing the proof version of the Julia Grant First Spouse Gold Coin as "Sold Out" while the uncirculated coin remains available for $991.00.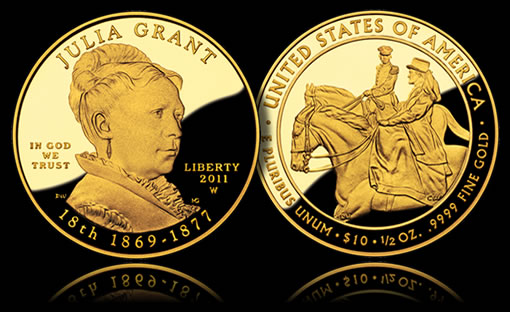 The one-half ounce, 24-karat gold proof coin was released with its companion on June 23, 2011. The most recent sales figures as of March 26, 2012 had weekly sales of the proof up a modest 4 to 3,968 and the uncirculated up 5 to 2,580 for a total sales count of 6,548.
The amount is well below the maximum 15,000 mintage announced for both coins when they were released, but the U.S. Mint has shown a recent tendency to produce fewer of the spousal coins given waning demand for the series in general. In the further past, the U.S. Mint had often kept each set of First Spouse Gold Coins on sale for one year or until they were replaced by a newer year's issues. The U.S. Mint now seems to produce a finite number coins based on early buying trends. When those are gone, no more are produced and a sell-out can then occur.
The U.S. Mint delivers more proof coins than uncirculated, which suggests that the Julia Grant First Spouse Gold Coin sales total could stay below 7,000 even should the uncirculated issue remain available for many more weeks.
On a notable level, Julia Grant's proof now sports the lowest mintage across all other no longer available proofs. Margaret Taylor's 2009-dated proof had been most scarce at 4,787 — although the scarcest title could well be earned by another of last year's issues before all is said and done.
In addition to the uncirculated Julia Grant First Spouse Gold Coin, the United States Mint continues to offer six others in the series. Those and their most recent sales include:
First Spouse Gold Coin
Release Dates
Latest Sales
Proof Eliza Johnson
May 5, 2011
3,811
Uncirculated Eliza Johnson
2,847
Proof Lucy Hayes
Sept. 1, 2011
3,116
Uncirculated Lucy Hayes
2,007
Proof Lucretia Garfield
Dec. 1, 2011
2,600
Uncirculated Lucretia Garfield
1,640
Each of the coins may be purchased at the U.S. Mint's website, http://www.usmint.gov/catalog, and at 1-800-USA-MINT (872-6468).
An announcement has not been made yet for when this year's coins will begin to make their appearance.