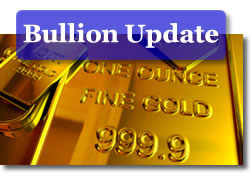 Gold futures prices rebounded 1.0% Thursday, snapping a three-day string of losses and coming off a two-month low as prices plunged 3% on Wednesday. Gold shed $68.60 during its three-day losing streak. Bargain hunting and a weaker U.S. dollar index were among the factors contributing to gain across all precious metals, opined analysts.
"For a market that sells off five percent that doesn't normally come off that aggressively, people look to buy it for a trading opportunity," said Fred Schoenstein, a trader at Heraeus Precious Metals Management, according to Reuters.
After diving by more than $51 on Wednesday alone, gold prices added $16.60 to close at $1,659.50 an ounce in the April futures contract on the Comex in New York. The yellow metal traded between an intraday low of $1,636.20 and a high of $1,667.40.
Silver prices for May delivery recovered 54.5 cents, or 1.7%, to settle at $32.726 an ounce, moving between $31.935 and $32.900. The white metal sank $1.40 on Wednesday.
Platinum prices for April delivery rose $8.60, or 0.5%, to $1,683.90 an ounce, ranging from $1,661.40 to $1,692.00.
Palladium prices for June delivery surged $12.45, or 1.8%, to $709.90 an ounce, trading between $690.20 and $711.00.
London Precious Metals
Gold prices rose slightly in London but other precious metals declined. When comparing the latest London PM fixings, gold tacked on $3.75 to $1,648.00 an ounce, silver fell 48.0 cents to $32.36 an ounce, platinum was set back $3.00 to $1,676.00 an ounce, and palladium was off $7.00 to $693.00 an ounce.
U.S. Mint Bullion Coins
The U.S. Mint reported another exceptional day of sales for its gold bullion coins. Buyers ordered 7,500 ounces spread across the American Gold Buffalo and the one ounce and one-tenth ounce sizes of American Gold Eagles. Prior day sales hit 6,500 ounces.
American Silver Eagle bullion coin sales slowed as 80,000 were claimed Thursday versus the 352,000 from the previous day.
The following are the most recent daily, monthly and year-to-date bullion sales figures as published by the U.S. Mint.
Sales of U.S. Mint American Eagle and Buffalo Bullion Coins
Daily Gains
March Gains
YTD 2012
American Gold Eagles (1 oz.)
4,000
27,000
131,500
American Gold Eagles (1/2 oz.)
0
0
49,000
American Gold Eagles (1/4 oz.)
0
0
40,000
American Gold Eagles (1/10 oz.)
10,000
15,000
105,000
American Gold Buffalo Coin (1 oz.)
2,500
18,500
39,000
American Silver Eagles
80,000
1,497,000
9,094,000
Sales of America the Beautiful 5 Oz. Silver Bullion Coins
Prior Weekly
Weekly Gains
All-Time Total
Olympic National Park 5 oz. Silver Coin
0
300
84,900
Vicksburg National Military Park 5 oz. Silver Coin
500
300
38,100
Chickasaw Park 5 oz. Silver Coin
0
300
28,700
TOTAL
500
900
151,700
All bullion coin totals in the above tables are in the number of coins sold, not in the amount of ounces. The U.S. Mint has not sold any of its five ounce bullion coins since Monday, March 12.