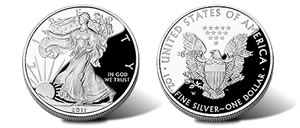 Last week the United Stated Mint published a release date of April 12 for this year's 2012-W Proof American Silver Eagle. This week a new notice from the bureau announced the price of the coin.
It is a tad lower than stated in a previous U.S. Mint announcement but also a bit higher than the price of last year's 2011-W Proof American Silver Eagle when it sold out. Based on a U.S. Mint notice published in the Federal Register today which was dated Monday, March 12, this year's collectible American Silver Eagle will be offered for sale at a price of $59.95.
The amount matches last year's opening Eagle price when it launched on June 30, but it is $1 more than its cost right before selling out on November 22. However, the price is also $2 less than when the U.S. Mint had first indicated on January 11.
Release dates and product pricing can, of course, change. The former is less expected in this case given the announced April 12 date is quickly approaching. The latter is perhaps more plausible due to recent volatility in precious metals. It is likely that the Mint decided on the 2012 Proof American Silver Eagle price at a time when silver was in the area of $33 an ounce. The white metal would probably need to fluctuate several dollars from there for the proof Eagle to get tagged with updated pricing.
As the U.S. Mint's most popular standalone silver coin that is released annually and produced for collectors, opening demand for the West Point minted coin will be high on April 12. Last year's 2011-W sold out with combined sales of 950,000 — 850,000 individually and another 100,000 which were placed within the American Silver Eagle 25th Anniversary Set.
An announcement is yet to be published for the collectible uncirculated version(s) of the Eagle. The U.S. Mint continues to sell last year's 2011-W Uncirculated American Silver Eagle for $45.95. It was one of the collector silver coins that had been suspended for 12 days after silver prices jumped over $35 an ounce on February 23. There is also no news as to whether this year will see a San Francisco minted 2012-S Uncirculated Silver Eagle as was planned last year, according to the United States Mint 2011 Annual Report.
The 2012-dated bullion American Silver Eagle was released on January 3. On Wednesday, year-to-date sales of the coin topped 9 million.