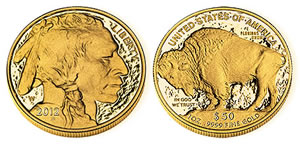 Although gold prices dived Wednesday, the weekly London Fix average for the yellow metal remained high enough to keep U.S. Mint numismatic gold coin prices unchanged and set the $1,960.00 opening price for the 2012-W Proof Buffalo Gold Coin which launches Thursday at 12:00 noon ET.
Gold has been trending downward since the afternoon of February 29 — exactly two weeks ago — when Fed Chairman Ben Bernanke testified before Congress without signaling another round of monetary easing. Ironically, only hours earlier the U.S. Mint had raised prices on its numismatic gold and platinum coins since precious metals had been steadily advancing during the days leading up to Bernanke's testimony.
Pricing of U.S. Mint gold and platinum numismatic products is directly related to the average weekly London Fix prices for these metals. If their market values move into a higher or lower range, the price of each product increases or decreases in corresponding increments.
One week ago the U.S. Mint cut gold coin prices by two tier levels when the weekly average fell to within $1,650.00 and $1,699.99 an ounce. The newest average calculated by the U.S. Mint earlier today at $1,692 an ounce settled comfortably into the higher part of the same range.
As such and because gold's current spot price is at $1,637.70 an ounce, prices for U.S. Mint collectible gold coins will be perceived on the high side. Demand for the coins should retreat, at least in the short term, and the sales debut of the 2012-W Proof Buffalo Gold Coin is likely to come in weaker than otherwise expected.
The 99.99% fine gold coin will launch at a price which is $200 more than last year's opening price — the 2011-W Proof Buffalo Gold Coin is still on sale at the U.S. Mint website (http://www.usmint.gov/catalog), and $1,160 above what collectors paid for the very first one in 2006 when the American Buffalo coin was introduced.