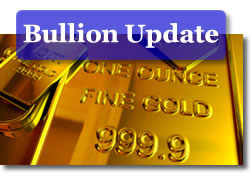 Gold rebounded Wednesday from a six week-low and a three-day losing streak. Gains were attributed to reports that the Fed is weighing a new form of bond-buying program, improved sentiment on Greece's debt deal, riskier appetites and a weaker U.S. dollar.
"Gold is up because there is growing evidence that there will not be a hard default in Greece," Reuters quoted Bill O'Neill, partner at commodities investment firm LOGIC Advisors.

"If the Fed came out and said directly that there will be no monetary easing, it will probably have an impact on gold prices, but it's not going to do that at this point," O'Neill added.
Gold prices settled up $11.80, or 0.7%, to $1,683.90 an ounce in the April futures contract on the Comex in New York. Gold bracketed an intraday low and high of $1,671.70 and $1,687.70.
Silver prices for May delivery rose 80.2 cents, or 2.4%, to $33.585 an ounce, moving between $32.755 and $33.610. Kitco News' Jim Wyckoff writes the following in the Kitco Metals Roundup about the near-term technicals for silver:
"May silver futures prices closed nearer the session high Wednesday and saw a corrective upside bounce after hitting a six-week low on Tuesday.

Bulls' next upside price breakout objective is closing prices above solid technical resistance at $35.00 an ounce. The next downside price breakout objective for the bears is closing prices below solid technical support at $31.00.

First resistance is seen at Wednesday's high of $33.61 and then at $34.00. Next support is seen at $33.00 and then at Wednesday's low of $32.755. Wyckoff's Market Rating: 5.5."
Platinum prices for April delivery gained $15.40, or 1.0%, to $1,627.30 an ounce, ranging from $1,611.00 to $1,635.00.
Palladium prices for June delivery advanced $13.75, or 2.0%, to $685.35 an ounce, ranging from $666.05 to $687.10.
London Precious Metals
Earlier fixed London precious metals ranged from near flat to modestly higher. When comparing the London PM fixings from Tuesday to Wednesday, gold was unchanged at $1,669.00 an ounce, silver was near unchanged with a loss of 5.0 cents to $33.17 an ounce, platinum added $13.00 to $1,627.00 an ounce, and palladium tacked on $5.00 to $678.00 an ounce.
U.S. Mint Bullion Coins
As of 3:54 p.m. ET, the U.S. Mint has not indicated an increase in sales for its popular bullion American Silver Eagle. If that holds, the coin's streak of daily increases would halt at seven.
The U.S. Mint did report a 6,000 coin advance for its one ounce American Gold Eagle. 14,500 is the bullion coin's new monthly sales total. That is already 75% of the amount sold in all of February.
The following are the most recent daily, monthly and year-to-date bullion sales figures as published by the U.S. Mint.
Sales of U.S. Mint American Eagle and Buffalo Bullion Coins
Daily Gains
March Gains
YTD 2012
American Gold Eagles (1 oz.)
6,000
14,500
119,000
American Gold Eagles (1/2 oz.)
0
0
49,000
American Gold Eagles (1/4 oz.)
0
0
40,000
American Gold Eagles (1/10 oz.)
0
0
90,000
American Gold Buffalo Coin (1 oz.)
0
7,000
27,500
American Silver Eagles
0
695,000
8,292,000
Sales of America the Beautiful 5 Oz. Silver Bullion Coins
Prior Weekly
Weekly Gains
All-Time Total
Olympic National Park 5 oz. Silver Coin
0
0
84,600
Vicksburg National Military Park 5 oz. Silver Coin
0
0
37,300
Chickasaw Park 5 oz. Silver Coin
0
300
28,400
TOTAL
0
0
150,300
All bullion coin totals in the above tables are in the number of coins sold, not in the amount of ounces. The U.S. Mint rarely publishes daily sales figures for its biggest five-ounce silver coins. These latest sales are as of Monday, February 27, 2012.