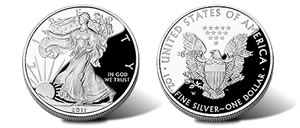 Newly dated proof Gold Eagles, the proof Silver Eagle and the proof Gold Buffalo are the latest additions to the U.S. Mint's numismatic product schedule for 2012. The popular proof coins were added Monday to the Mint's schedule.
As it stands now, all but the proof Gold Eagles would launch earlier in the year as compared to their 2011-dated counterparts. The proof Buffalo coin is set for release on March 15 versus last year's release date of May 19. The proof Silver Eagle is scheduled for April 12 versus last year when the coin was made available on June 30. Finally, this year's proof Gold Eagles have an expected release date of April 19, which is essentially the same as last year's issues which launched on April 21.
There is no indication as to when the Mint will stop selling the current 2011-dated Buffalo and Eagle products, although many of last year's proofs have already sold out, including the proof Silver Eagle and three of the five products featuring Gold Eagles — the smallest one-tenth ounce Eagle and four-coin set are still for sale.
A list of the Mint's updated March-May product schedule follows:
| | |
| --- | --- |
| Date | U.S. Mint 2012 Numismatic Product |
| 3/05 | Star-Spangled Banner Commemorative Coins |
| 3/13 | 2012 Birth Set |
| 4/02 | American the Beautiful Quarters Bags and Two-Roll Set – Chaco Culture |
| 4/03 | America the Beautiful Quarters Uncirculated Coin Set™ |
| 4/12 | American Eagle Silver Proof Coins |
| 4/17 | American the Beautiful Quarters Three-Coin Set™ – Chaco Culture |
| 4/19 | American Eagle Gold Proof Coins |
| 05/15 | Kennedy Half-Dollar Two-Roll Set and 200-Coin Bag |
| TBD | Presidential $1 Coin Rolls – Chester Arthur |
| TBD | United States Mint Presidential $1 Coin Proof Set |
| TBD | Presidential $1 Coin Uncirculated Set |
As indicated, release dates are "To Be Determined" for rolls of the Chester Arthur Presidential $1s and the proof and uncirculated Presidential $1 Coin sets. In January, the U.S. Mint initially had the rolls and proof set planned for February 16 and February 23. Their change is a reminder that the Mint's product schedule is subject to change.
Both of last year's uncirculated Gold and Silver Eagles sold out. The 2012 uncirculated coins are noticeably absent from the schedule. While completely speculative, the U.S. Mint stated a desire to add a 2012-S Uncirculated Silver Eagle to its product portfolio along with the standard annual issue from West Point. A U.S. Mint survey also teased about the possibility of a new annual set featuring Silver Eagles. If these products have indeed become a reality, extra time would be needed to prepare for their release.