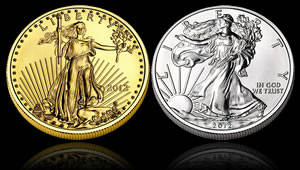 Sales tumbled last month for American Eagle gold and silver bullion coins. Investors appeared less fond of U.S. Mint bullion products even as precious metals prices climbed during much of the month.
February Silver Eagle sales reached 1.49 million, down 75.6% from the previous near monthly record. And while demand almost always declines in February as excitement fades for a year's newly dated Eagles, silver coin sales were still off 54% from the same time a year ago.
Not to be outdone, Gold Eagle sales dived with the same intensity. U.S. Mint buyers ordered just 21,000 ounces last month, down 75.1% from the previous month and off a staggering 77.3% from a year ago.
James Steel, precious-metals analyst with HSBC, notes: "The sharp decline in coin sales shows some consumer retrenchment in reaction to the higher prices."
Investors actually tend to flock toward U.S. Mint bullion coins as precious metals rise, especially during dips. But the dips were less frequent and less volatile in February, excluding the final day of the month when gold plummeted by more than $77 from a 3.5-month high and silver plunged $2.56 from a 5.5-month high. As on cue, next day Gold Eagle sales were up by nearly half the amount sold in all of February and Silver Eagles surged 200,000.
While the aforementioned American Eagle figures consisted of 2012-dated inventory, the U.S. Mint also sold 2011-dated bullion coins to its distributors. American Gold Buffalo sales came in at 7,000 ounce for February, down from the 13,500 ounces sold in the previous month. Finally, 2011-dated America the Beautiful Five Ounce Silver Bullion Coins were up by 300 coins, or 1,500 ounces, compared to the 5,700 coins, or 28,500 ounces, in the prior month. The U.S. Mint has indicated that it expects to start offering 2012-dated American Buffalo coins sometime in March but it has not indicated when it will begin issuing the year's five ounce bullion coins.
For reference, the following table provides U.S. Mint bullion figures by month and year.
January, February and YTD 2012 U.S. Mint Bullion Coin Sales
Jan 2012
Feb 2012
YTD 2012
American Eagle Gold (1 oz)
84,500
20,000
104,500
American Eagle Gold (1/2 oz)
49,000
0
49,000
American Eagle Gold (1/4 oz)
38,000
2,000
40,000
American Eagle Gold (1/10 oz)
85,000
5,000
90,000
American Buffalo Gold (1 oz)
13,500
7,000
20,500
America the Beautiful Silver 5 oz Coins
5,700
300
6,000
American Eagle Silver
6,107,000
1,490,000
7,597,000
All bullion coin totals in the above tables are in the number of coins sold, not the amount of ounces.