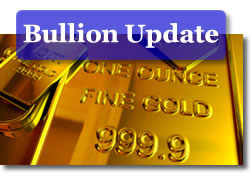 U.S. dollar weakness drove precious metals higher Tuesday as gold closed near $1,790 an ounce for its best price since November, and silver prices topped $37 an ounce for its best settlement since September.
"The euro is stronger against the dollar and that's one of the major supportive factors" for gold, Peter Fertig, owner of Quantitative Commodity Research Ltd. in Hainburg, Germany, said by telephone. Higher equities are "also supportive" for commodities to include gold, Fertig said, according to Bloomberg.
U.S. stocks ended at highs not seen since 2008, with the Dow closing above the psychological milestone of 13,000 for the first time since May 19, 2008.
Gold prices advanced $13.50, or 0.8%, to $1,788.40 an ounce in the April futures contract on the Comex in New York. Gold traded between an intraday low of $1,767.00 and a high of $1,792.70. Gold has jumped 14.1% this year.
"Both gold and silver are lifted by an expectation of continued liquidity coming into the market," Reuters quoted Frank McGhee, head precious metals trader at Integrated Brokerage Services LLC in Chicago.
Silver prices for May delivery — the new most active contract — leapt $1.601, or 4.5%, to $37.205 an ounce. Silver moved between $35.390 and $37.295.
"Massive fund buying and predominantly technical factors boosted silver, which was under valued compared to everything else and we are covering a lot of the ground today," McGhee said.
Silver continues to be the best performing precious metal this year with its 33.3% advance.
Platinum prices for April delivery added $9.20, or 0.5%, to $1,723.50 an ounce, ranging from $1,694.20 to $1,728.40.
Palladium prices for June delivery tacked on $14.80, or 2.1%, to $722.20 an ounce, ranging from $703.45 to $724.50.
Platinum and palladium have also scored significant gains on the year at 22.7% and 10.1%, respectively.
London Precious Metals
London precious metals advanced as well Tuesday, but at a slower pace than precious metals futures in New York.
When comparing the London PM fixings between Monday and Tuesday, gold added $9.00 to $1,781.00 an ounce, silver climbed 51.0 cents to $35.60 an ounce, platinum gained $6.00 to $1,712.00 an ounce, and palladium turned $5.00 higher to $712.00 an ounce.
U.S. Mint Bullion Coins
It was a day of 500's for the U.S. Mint's largest gold bullion coins, as sales of the one ounce Gold Eagle and one ounce Gold Buffalo each rose 500. The Mint's most popular bullion piece, the Silver Eagle, advanced 40,000.
The following U.S. Mint bullion coin figures show the latest daily, monthly and year-to-date sales.
Sales of U.S. Mint American Eagle and Buffalo Bullion Coins
Daily Gains
Feb. Gains
YTD 2012
American Gold Eagles (1 oz.)
500
19,000
103,500
American Gold Eagles (1/2 oz.)
0
0
49,000
American Gold Eagles (1/4 oz.)
0
2,000
40,000
American Gold Eagles (1/10 oz.)
0
5,000
90,000
American Gold Buffalo Coin (1 oz.)
500
7,000
20,500
American Silver Eagles
40,000
1,460,000
7,567,000
Sales of America the Beautiful 5 Oz. Silver Bullion Coins
Prior Weekly
Weekly Gains
All-Time Total
Olympic National Park 5 oz. Silver Coin
0
0
84,600
Vicksburg National Military Park 5 oz. Silver Coin
0
0
37,300
Chickasaw Park 5 oz. Silver Coin
0
300
28,400
TOTAL
0
0
150,000
All bullion coin totals in the above tables are in the number of coins sold, not the amount of ounces. The U.S. Mint does not generally publish daily sales figures for its five-ounce silver coins. These latest sales are as of Monday, February 27, 2012.