The Bureau of Engraving and Printing (BEP) has announced its upcoming America's Founding Fathers 2012 Currency Set, featuring George Washington and Thomas Jefferson bills.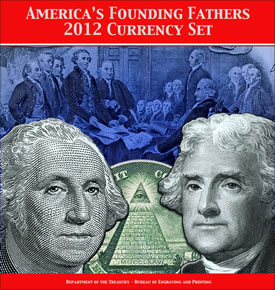 Each currency set has a Series 2009 $1 note with a portrait of George Washington and a Series 2003A $2 note with Thomas Jefferson's portrait. They are from the Federal Reserve Bank of Minneapolis with matching serial numbers that begin with "2012."
The release is scheduled for Tuesday, February 21, 2012 at 8:00 AM Eastern Time (ET) and the price is $19.95. A household order limit of 50 sets will be in place until Sunday, March 4. If inventory remains beyond that day, the household limit will be removed and bulk pricing will be available for $16.95 for orders containing 50 sets or more.
In all, up to 9,000 sets will be produced and sold in 2012, making the America's Founding Fathers 2012 Currency Set a limited-edition. Special packaging includes a decorative tri-fold display folder, and the notes are protected in a clear acid-free polymer sleeve. Shipments will start on March 5, 2012.
When available, the set may be purchased directly from the BEP online store at www.moneyfactorystore.gov.
About the BEP
The Bureau of Engraving and Printing is the largest producer of security documents in the United States. The bureau prints billions of Federal Reserve Notes for delivery to the Federal Reserve System each year. These notes are produced at facilities in Washington, DC, and Fort Worth, Texas.
In addition to U.S. currency, the bureau produces several other security documents such as portions of U.S. passports, materials for Homeland Security, military identification cards, and Immigration and Naturalization Certificates.