On Monday, April 8, 2013, the Bureau of Engraving and Printing (BEP) released the America's Founding Fathers 2013 Currency Set for collectors.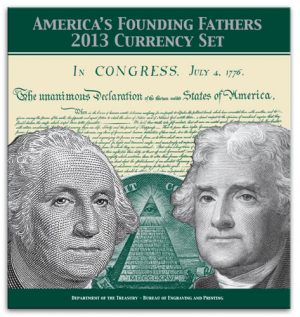 Similar to last year's release, the 2013-dated set is priced at $19.95. It too features a Series 2009 $1 note, having a portrait of George Washington, and a Series 2003A $2 note with Thomas Jefferson's portrait. Money collectors will appreciate that the sets are limited editions, both notes have a serial number that starts with "2013," and both notes are from the Federal Reserve Bank of Minneapolis.
The BEP is packaging the currency notes in a tri-fold folder and protecting the currency with a clear acid-free polymer sleeve. Part of the folder is dedicated to a description of the bills and their engravings.
Where to Order
Customers may place their orders for the America's Founding Fathers 2013 Currency Set directly at the Bureau of Engraving and Printing store found at www.moneyfactorystore.gov.
From April 8 until April 21, the BEP is limiting household orders to 50 sets. Once the pre-release period expires, the household limit will be lifted and bulk pricing of $16.95 each for quantities of 50 or more.
In total, up to 5,000 of the presidential 2013 Currency Sets will be available from the BEP but only during this calendar year.