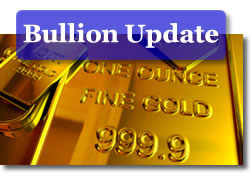 Gold was nearly unchanged Monday with a loss of less than 0.1% after falling 0.9% last week.
Gold prices dipped 40 cents to $1,724.90 an ounce in the April futures contract on the Comex in New York. The yellow metal traded from $1,717.70 to $1,735.40.
"Gold is currently testing its upward trendline. Until it rises above the middle of its bullish double-bottom pattern at $1,804 an ounce, there remains significant overhead resistance," Reuters quoted Adam Sarhan, CEO of Sarhan Capital.
Silver prices for March delivery rose 11.8 cents, or 0.4%, to $33.722 an ounce. The intraday low for the white metal was $33.455 while its high was $34.035. Silver retreated 0.4% last week.
Platinum prices for April delivery declined $10.10, or 0.6%, to $1,649.70 an ounce, ranging from $1,643.80 to $1,670.70.
Palladium prices for March delivery lost $4.50, or 0.6%, to $698.55 an ounce, trading between $696.00 and $706.65.
Despite Monday losses in platinum and palladium, the metals have seen support, writes Jon Nadler, Senior Analyst at Kitco Metals Inc.
"The noble metals continue to receive support from on-going South African labor strife which is resulting in estimated platinum production losses on the order of 3,000 ounces on a daily basis at Impala Platinum — the world's second largest producer,"

"Interest levels among speculators in PGMs have been on the rise as evidenced by the latest CFTC market positioning metrics. In platinum there was an increase of more than 18,000 ounces on the long side and in palladium there was a rise of more than 11,000 ounces noted."
Last week platinum surged 1.7% while palladium lost 0.8%.
London Precious Metals
London precious metals bounced higher in starting the week. When comparing the London PM fixings between Friday and Monday, gold advanced $8.50 to $1,720.00 an ounce, silver gained 29.0 cents to $33.84 an ounce, platinum added $25.00 to $1,663.00 an ounce and palladium climbed $5.00 to $702.00 an ounce.
U.S. Mint Bullion Coins
U.S. Mint bullion coin levels were unchanged Monday as of 2:53 PM ET. The latest sales figures are shown in the table below.
Sales of U.S. Mint American Eagle and Buffalo Bullion Coins
Daily Gains
Feb. Gains
YTD 2012
American Gold Eagles (1 oz.)
0
8,000
92,500
American Gold Eagles (1/2 oz.)
0
0
49,000
American Gold Eagles (1/4 oz.)
0
2,000
40,000
American Gold Eagles (1/10 oz.)
0
0
85,000
American Gold Buffalo Coin (1 oz.)
0
1,500
15,000
American Silver Eagles
0
710,000
6,817,000
Sales of America the Beautiful 5 Oz. Silver Bullion Coins
Prior Weekly
Weekly Gains
All-Time Total
Olympic National Park 5 oz. Silver Coin
0
0
84,600
Vicksburg National Military Park 5 oz. Silver Coin
0
0
37,300
Chickasaw Park 5 oz. Silver Coin
0
0
28,100
TOTAL
0
0
150,000
All bullion coin totals in the above tables are in the number of coins sold, not the amount of ounces. The latest five-ounce sales were provided by the U.S. Mint on Friday, January 27, 2012. The Mint does not publish daily sales figures for its five-ounce silver coins. Although, since the last released date is more than two weeks past, there likely has not been new sales to report.