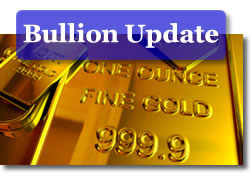 Following two consecutive daily losses, gold rebounded Tuesday when the U.S. dollar fell and bargain hunting ensued. Pressuring the greenback were comments from Fed Chairman Ben Bernanke about weakness in the U.S. economy and optimism over reports of progress in a Greece debt deal.
"We are showing a quite strong rally in the gold market" as Bernanke's statements continued to indicate more monetary easing "and also on hopes for Greece," MarketWatch relayed and quoted Jim Steel, a precious metals analyst with HSBC in New York.
Gold prices gained $23.50, or 1.4% to $1,748.40 an ounce in the April futures contract on the Comex in New York. Gold touched an intraday low of $1,712.60 and reached a high of $1,752.60.
Silver prices for March delivery advanced 44.4 cents, or 1.3%, to $34.194 an ounce. Silver traded between $33.155 and $34.370. Jim Wyckoff of Kitco News writes in the Tuesday Kitco Roundup about the near-term technical points for silver.
"March silver futures prices closed nearer the session high Tuesday. Silver bulls have the overall near-term technical advantage and regained some upside momentum Tuesday.

A five-week-old uptrend is in place on the daily bar chart. Bulls' next upside price breakout objective is closing prices above solid technical resistance at the October high of $35.68 an ounce. The next downside price breakout objective for the bears is closing prices below solid technical support at $31.525.

First resistance is seen at last week's high of $34.41 and then at $35.00. Next support is seen at $34.00 and then at $33.50. Wyckoff's Market Rating: 7.0."
Platinum prices for April delivery added $25.00, or 1.5%, to $1,654.80 an ounce, moving between $1,614.50 and $1,655.70.
Palladium prices for March delivery gained $3.20 or 0.5%, to $709.15 an ounce, ranging from $696.05 to $710.00.
London Precious Metals
Precious metals in London were mixed as silver fell while other major metals rose. When comparing the London PM fixings between Monday and Tuesday, gold edged up $5.00 to $1,724.00 an ounce, silver dipped 24.0 cents to $33.28 an ounce, platinum added $10.00 to $1,619.00 an ounce and palladium advanced $4.00 to $700.00 an ounce.
U.S. Mint Bullion Coins
The U.S. Mint on Tuesday reported gains across each of its one ounce bullion coins. The American Silver Eagle surged ahead another 200,000 after jumping 375,000 on Monday. Its February total now stands at 670,000.
Rising for the first time this month was the American Gold Buffalo at 1,000. Rounding out gains in bullion coins, the American Gold Eagle added 1,000 for a 6,000 total in February.
The latest daily, February and year-to-date U.S. Mint bullion coin sales are provided below.
Sales of U.S. Mint American Eagle and Buffalo Bullion Coins
Daily Gains
Feb. Gains
YTD 2012
American Gold Eagles (1 oz.)
1,000
6,000
90,500
American Gold Eagles (1/2 oz.)
0
0
49,000
American Gold Eagles (1/4 oz.)
0
2,000
40,000
American Gold Eagles (1/10 oz.)
0
0
85,000
American Gold Buffalo Coin (1 oz.)
1,000
1,000
14,500
American Silver Eagles
200,000
670,000
6,777,000
Sales of America the Beautiful 5 Oz. Silver Bullion Coins
Prior Weekly
Weekly Gains
All-Time Total
Olympic National Park 5 oz. Silver Coin
0
0
84,600
Vicksburg National Military Park 5 oz. Silver Coin
0
0
37,300
Chickasaw Park 5 oz. Silver Coin
0
0
28,100
TOTAL
0
0
150,000
All bullion coin totals in the above tables are in the number of coins sold, not the amount of ounces. The latest five-ounce sales were provided by the U.S. Mint on Friday, January 27, 2012. The Mint does not publish daily sales figures for its five-ounce silver coins. However, since the last released date is more than two weeks past, there likely has not been new sales to report.