The United States Mint has published the image for the reverse of the 2012 Native American $1 Coin. Until now, only a line art design was available, and that was released back in November.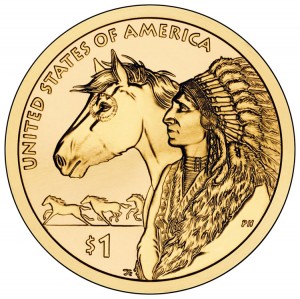 As mandated by law and since 2009, the reverse of the dollars have changed annually to feature a unique design celebrating important contributions by Indian tribes and Native Americans.
This year's Native American $1 Coin theme is "Trade Routes in the 17th Century." Depicted, and shown in the image above, is the 2012 dollar reverse portraying a Native American and horse in profile with three other horses running in the background, symbolizing the historical spread of the horse.
The obverse or heads side of the dollar has remained the same since the golden-colored coin was first released back in 2000. Created by Glenda Goodacre, it depicts a young Sacagawea who accompanied Lewis and Clark in their expedition from the East to the Pacific Coast of the United States.
A release date for the new dollar has not yet been announced by the U.S. Mint. Last year's dollar was released early in the year, on January 12.
When the 2012 Native American $1 Coin is launched, the Mint will offer 25-coin rolls from either Philadelphia or Denver for $32.95. That is $7 less than the cost of the rolls from past years. Based on other Mint notices, the bureau is also expected to offer a $1 Five-Coin Set containing one 2012 Native American dollar and the four 2012 Presidential dollars. These four coins honor Chester Arthur, Grover Cleveland (first term), Benjamin Harrison, and Grover Cleveland (second term).
No dollar coins will be released into circulation in 2012 as in past years. Since so many of the coins now sit unused in Federal Reserve vaults, Treasury Secretary Geithner suspended their production for circulation, allowing the U.S. Mint to produce them only for collectors.