Demand for American Gold Eagle bullion coins is on the rise with the latest United States Mint sales figures showing 133,500 ounces delivered in January 2011.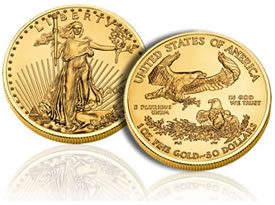 Gold Eagle bullion sales last month rank as the third best January. US Mint Authorized Purchasers snapped up 142,500 ounces during the same period in 1987, leaving it solidly second. The top two and three slots are eclipsed by the first issue month in 1999 when the US Mint recorded sales of 281,000 ounces.
Top Five January Gold Eagle Sales
| | | |
| --- | --- | --- |
| 1 | January 1999 | 281,000 |
| 2 | January 1987 | 142,500 |
| 3 | January 2011 | 133,500 |
| 4 | January 1998 | 105,500 |
| 5 | January 1991 | 98,000 |
The US Mint delivered 85,000 ounces of the 22-karat Gold Eagle bullion coins during the same period last year. The all-time monthly record of 692,000 ounces was achieved when the series debuted in October 1986.
January's performance outpaced sales in December by 122.5% when 60,000 ounces were purchased. July 2010 was the last time the US Mint registered higher monthly American Gold Eagle sales when 152,000 ounces were ordered. Significantly lower monthly totals followed throughout the rest of the year. Still, enough were sold that 2010 Gold Eagle sales rank sixth all-time.
Turning to individual numbers from last month, the US Mint recorded sales of 130,500 of the one ounce, 1,000 of the half ounce, 4,000 of the quarter ounce and 25,000 of the tenth ounce sizes.
The 2011-dated eagles were released on January 3. The Mint is yet to offer the 2011 American Gold Buffalo bullion coin, although that is normal. The 24-karat coins were not issued during the previous year until April.
American Gold Eagle bullion coins are intended for investors. The US Mint also strikes numismatic versions specifically for collectors. Both are composed of .9167 fine gold and feature identical obverse and reverse designs. The obverse is well known to many and was originally designed by Augustus Saint-Gaudens for the $20 Double Eagle in 1907. The main differences between bullion and collector versions are finishes, mint marks and the means of distribution. Bullion coins are struck to bullion quality, do not have a mint mark and are distributed through the US Mint's network of Authorized Purchasers. Collector versions have been minted in both proof and uncirculated qualities, feature a mint mark denoting where they were produced and are always sold directly to the public by the US Mint.
The US Mint 2011 product schedule indicates that the collector proof and uncirculated 2011 American Gold Eagles will launch on April 21 and May 5, respectively. The proof American Gold Buffalo coin is expected out on April 18.