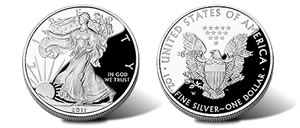 The United States Mint on Wednesday officially set prices for the 2012 Proof Silver Eagle and major annual sets after having revealed several other significant product changes on Friday, including reduced quarter product prices and new Presidential $1 coin products.
"The United States Mint is pleased to announce that it is reducing or maintaining 2011 prices for some of its most popular products to be offered in 2012," a United States Mint news statement explains. "The bureau was able to set these lower prices and maintain others by refining the product costing process, taking advantage of current lower prices for precious metals and negotiating better pricing from its suppliers."
While a nice sampling of United States Mint products will see lower prices this year, the expected cost for the upcoming proof Silver Eagle is perhaps most disappointing. The Mint's news statement said it will reduce the price on this year's proof Silver Eagle from $68.45 to $61.95. Last year's 2011 Proof Silver Eagle was indeed at $68.45 for a portion of the year — increased as a result of rising silver, but it first launched on June 30 at $59.95 and later sold out at $58.95 — the final price setting after silver faltered. The price for the upcoming Uncirculated Silver Eagle is set to remain unchanged at $45.95.
Also disappointing but at least stable, the United States Mint notes that prices for its popular annual Proof Set and Silver Proof Set will remain the same at $31.95 and $67.95, respectively.
Release dates for any of the discussed products are yet to be announced which, at least for the silver ones, could still result in price adjustments due to another evaluation or directional swings in precious metals.
"Pricing for products containing silver, gold and platinum are subject to change throughout the year based on market volatility," the United States Mint advises.
The following is a summary of known United States Mint product prices based on published records:
United States Mint 2012 Product Prices
| | | | | |
| --- | --- | --- | --- | --- |
| PRODUCT | PRIOR PRICE | NEW PRICE | PRICE CHANGE | RELEASE DATES |
| 2012 Proof Silver Eagle | $58.95 | $61.95 | +$3.00 | TBD |
| 2012 Uncirculated Silver Eagle | $45.95 | $45.95 | – | TBD |
| 2012 Proof Set | $31.95 | $31.95 | – | TBD |
| 2012 Silver Proof Set | $67.95 | $67.95 | – | TBD |
| 2012 Mint Set | $31.95 | $27.95 | -$4.00 | TBD |
| America the Beautiful Quarters Silver Proof Set | $41.95 | $41.95 | – | Jan. 10 |
| America the Beautiful Quarters Proof Set | $14.95 | $14.95 | – | Jan. 17 |
| America the Beautiful Five Ounce Silver Uncirculated Coins | $204.95 | $204.95 | – | Varies |
| America the Beautiful Quarters Three-Coin Sets™ | $14.95 | $9.95 | -$5.00 | TBD |
| America the Beautiful Quarters Uncirculated Coin Set™ | $21.95 | $12.95 | -$9.00 | TBD |
| America the Beautiful Quarters Circulating Coin Set™ | $9.95 | $5.95 | -$4.00 | TBD |
| America the Beautiful Quarters 100-Coin Bag | $49.95 | $34.95 | -$15.00 | TBD |
| Presidential $1 Coin & First Spouse Medal Set | $14.95 | $9.95 | -$5.00 | Varies |
| American Presidency $1 Coin Cover Series | $19.95 | $19.95 | – | Varies |
| Presidential $1 Coin Proof Set | $19.95 | $18.95 | -$1.00 | Feb. 23 |
| Presidential $1 Coin Uncirculated Set | $19.95 | $16.95 | -$3.00 | TBD |
| Presidential & Native American $1 25-Coin Rolls | $39.95 | $32.95 | -$7.00 | Varies |
| $1 Coin Five-Coin Set | n/a | $12.95 | n/a | TBD |
| Presidential $1 Coin 100-Coin Bags | n/a | $111.95 | n/a | Varies |
| Presidential $1 Coin 250-Coin Box | n/a | $275.95 | n/a | Varies |
| Presidential $1 Coin 500-Coin Box | n/a | $550.95 | n/a | Varies |