A 1793 Chain cent (S-4), graded PCGS MS65 Brown, sold for $1,380,000 in the Heritage Auctions Platinum Night event at the Florida United Numismatists convention in Orlando, January 4, 2012. That is a record price for a U.S. copper coin in a public auction, according to Heritage.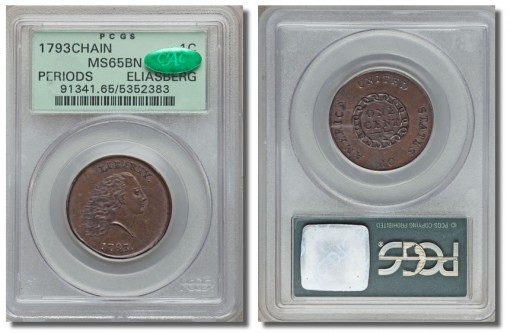 The Philadelphia Mint struck cents with the 13 linking rings design on the reverse only during the month of March 1793. The design was changed from a chain to a wreath after some critics complained the chain was symbolic of slavery even though the 13 rings were intended to represent the original 13 U.S. colonies.
"Classic rarities in spectacular condition, like this coin, are a red hot area of the market these days," said Jim Halperin, Heritage Co-Chairman.
"Another PCGS-certified coin breaks a sales record! Last year it was a PCGS-certified large cent breaking the million dollar level for the first time. Just one year later that record is broken by another PCGS coin! It's worth noting that the most valuable copper, silver and gold certified coins have all been graded by PCGS," said Don Willis, President of PCGS, a division of Collectors Universe, Inc. (NASDAQ: CLCT).
The name of the buyer was not revealed, only that he is "a major collector," according to Heritage officials.
The coin's pedigree includes the Cleneay, Atwater and Eliasberg collections, and was depicted in the important reference book, Walter Breen's Encyclopedia of Early United States Cents 1793 – 1814.
When this coin was last offered for auction in 2004, American Numismatic Rarities summed up its superb condition declaring: "Sometimes in the course of numismatic events, a coin 'has it all,' with little else to be desired. Such an instance is here, with this simply incredible 1793 Chain cent, one of the most famous and rare of American coin types, combining the certification in gem grade, plus the incomparable pedigree of the Eliasberg Collection. Just about every adjective that you might care to apply would be relevant-marvelous, wonderful, and so on. You can add your own descriptions."
With more than 23 million coins graded commanding a total current market value of over $26 billion, PCGS represents the industry standard in third-party certification. PCGS is a division of Collectors Universe, Inc. (NASDAQ: CLCT).