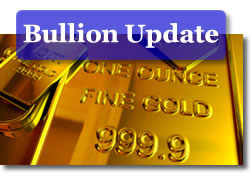 Gold extended its streak of wins to four straight sessions Thursday after trading below $1,600 an ounce for much of the day as a higher U.S. dollar provided pressure. European sovereign debt woes and heightened tensions with Iran drove enough safe-haven buying to eventually lift gold prices 0.5% higher and above $1,620 an ounce.
"Iran is gradually becoming a big source of concern, and people are worried what could happen next," Bloomberg quoted Michael Smith, the president of T&K Futures and Options in Port St. Lucie, Florida. "Gold is gaining on the fear."
Gold prices added $7.40 to $1,620.10 an ounce in the February futures contract on the Comex in New York. Gold touched a low of $1,597.70 and reached a high of $1,626.80.
"I expect we are going to see money from hedge funds and money managers to return to gold as a safe haven by the end of the month," Reuters quoted George Nickas precious metals broker at commodities firm FCStone. "It's just a matter of time for the gold buyers to return to the market as the European crisis hasn't been resolved," he said.
Silver prices for March delivery settled up 19.9 cents, or 0.7%, to $29.296 an ounce. Silver moved within $28.685 and $29.615.
Platinum prices for April delivery shed $8.30, or 0.6%, to $1,418.00 an ounce, ranging from $1,410.00 to $1,440.00.
Palladium prices for March delivery declined $9.15, or 1.4%, to $644.40 an ounce, trading between $635.75 and $658.00.
London Precious Metals
London precious metals prices were lower to unchanged. When comparing London fixings on Thursday (PM) from those on Wednesday (PM), gold eased $14.00 to $1,599.00 an ounce, silver dipped 26.0 cents to $28.92 an ounce, platinum was unchanged at $1,415.00 an ounce and palladium lost $11.00 to $645.00 an ounce.
U.S. Mint Bullion Coins
Sales totals for U.S. Mint bullion coins were unchanged Thursday as of 3:59 PM ET. The latest available figures follow.
Sales of U.S. Mint American Eagle and Buffalo Bullion Coins
Daily Gains
January/YTD 2012
American Gold Eagle Coin (1 oz.)
0
26,000
American Gold Eagle Coin (1/2 oz.)
0
9,000
American Gold Eagle Coin (1/4 oz.)
0
30,000
American Gold Eagle Coin (1/10 oz.)
0
75,000
American Gold Buffalo Coin (1 oz.)
0
2,500
Silver Eagles
0
3,372,000
Sales of America the Beautiful 5 Oz. Silver Bullion Coins
2011
2012
Gettysburg National Military Park 5 oz. Silver Coin
126,700
n/a
Glacier National Park 5 oz. Silver Coin
126,700
n/a
Olympic National Park 5 oz. Silver Coin
84,100
0
Vicksburg National Military Park 5 oz. Silver Coin
34,300
0
Chickasaw Park 5 oz. Silver Coin
26,900
0
TOTAL
398,700
0
All sales in the above tables are in coins, not ounces sold.