United States Mint American Silver Eagle bullion coins shattered their old annual sales record by nearly 6 million coins. Silver Eagles reached sales of 34,662,500 in 2010, capping their third straight annual gain.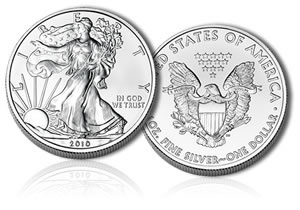 December sales were sluggish — the slowest in 2010, but previous months were mostly on fire and a new annual sales record was already assured following an all-time monthly high of 4.26 million in November 2010.
The following table provides US Mint sales figures for each month:
2010 Silver Eagle Bullion Coin Sales
Monthly
Sales
Monthly
Rank
January
3,592,500
3
February
2,050,000
10
March
3,381,000
4
April
2,507,500
8
May
3,636,500
2
June
3,001,000
6
July
2,981,000
7
August
2,451,000
9
September
1,880,000
11
October
3,150,000
5
November
4,260,000
1
December
1,772,000
12
2010 Annual Sales Total
34,662,500
December did have fresh competition as buyers were also spending cash for the newly released five-ounce America the Beautiful Silver Bullion Coins. US Mint Authorized Purchasers scooped up their entire 2010 mintage. However, even if their 825,000 ounces were added into December sales, the level would still rank as just the eighth best in 2010.
December Silver Eagle Bullion Coin Sales: 1986-2010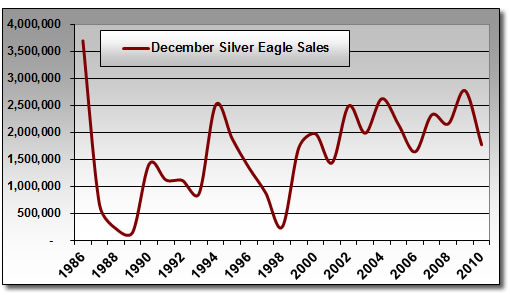 Returning to annual numbers, the chart below highlights how demand for the one-ounce, .999 fine silver coins has jumped since 2008 when annual sales hit 19.58 million from the previous 9.88 million in 2007. The year 2009 held the prior annual record at 28.76 million.
Annual Silver Eagle Bullion Coin Sales: 1986-2010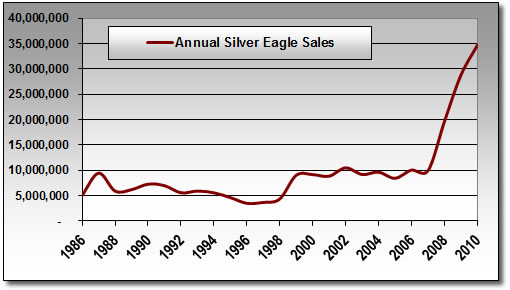 Since their debut in October 1986 and through to December 2010, the US Mint has sold 241,277,000 Silver Eagle bullion coins.
Final mintages for the 2010-dated Silver Eagle is not yet known. The mintages will be different than the annual sales figure as the US Mint sold 357,500 of the one-ounce 2009-dated coins in 2010 and continued to sell the remaining inventory of 2010-dated coins in early 2011. The bullion 2011 Silver Eagles were released January 3, 2011.
Bullion eagles are different than the numismatic proof or uncirculated versions minted for collectors. The US Mint does not sell bullion coins directly to the public, but to a network of 11 Authorized Purchasers for a small amount over the current spot price of silver. These purchasers then resell them to coin dealers, precious metal providers, or to the public directly. Also, bullion coins do not carry the "W" mintmark denoting their production at West Point.