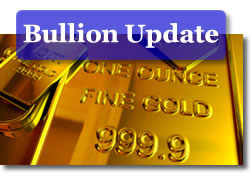 Gold reclaimed $1,600 an ounce Tuesday, the first trading day in 2012. Bargain hunting and a weaker U.S. dollar were largely attributed to the yellow metal's rise.
"With the sell-off that we had based on very low volume to end the year, the gold market snapped back and a significant amount of bargain hunting is coming in at those lower prices," Reuters quoted David Meger, director of metals trading at futures brokerage Vision Financial Markets.
Gold prices advanced $33.70, or 2.2%, to $1,600.50 an ounce in the February futures contract on the Comex in New York. It was gold's best settlement price since December 24. Prices moved from an intraday low of $1,566.80 to a high of $1,608.70.
Gold was also supported, opined analysts, by safe-haven demand as a result of tensions brought on by Iran.
"Fear trade is back because of Iran," Adam Klopfenstein, a market strategist at Archer Financial Services Inc. in Chicago, said in a telephone interview that was recounted on Bloomberg. "Also, we are seeing buying across commodities because of the weaker dollar."
Gold was the only precious metal to rise in 2011. It fell last week, for the month and for the quarter, but rallied 10.2% for the year in an 11th straight annual gain.
Silver prices for March delivery surged $1.657, or 5.9%, to settle at $29.572 an ounce. Silver prices bracketed $27.905 and $29.730.
Platinum prices for April delivery gained $27.60, or 2.0%, to $1,432.50 an ounce, ranging from $1,405.60 to $1,434.00.
Palladium prices for March delivery rose $7.35, or 1.1%, to $663.50 an ounce, trading between $650.10 and $671.25.
Silver, platinum and palladium — industrial used metals — were said to be lifted by better-than-expected manufacturing data out of China.
London Precious Metals
Advances in London precious metals were a bit more modest as compared to New York metal futures, with the exception of palladium which soared.
When comparing each of the London fixings on Tuesday (PM) from those on Friday (AM), gold gained $23.50 to $1,598.00 an ounce, silver prices climbed 60.0 cents to $28.78 an ounce, platinum advanced $25.00 to $1,406.00 an ounce and palladium scored the best increase at $28.00 to $664.00 an ounce.
U.S. Mint Bullion Coins
In terms of American bullion coins, the U.S. Mint is yet to officially close out the month of December. As such, bullion sales figures are the same as reported Friday.
Sales of U.S. Mint American Eagle and Buffalo Bullion Coins
Daily Gains
December Gains
YTD 2011
American Gold Eagle Coin (1 oz.)
0
65,500
910,000
American Gold Eagle Coin (1/2 oz.)
0
0
65,000
American Gold Eagle Coin (1/4 oz.)
0
0
82,000
American Gold Eagle Coin (1/10 oz.)
0
0
370,000
American Gold Buffalo Coin (1 oz.)
0
21,000
174,500
American Silver Eagle
0
2,009,000
39,868,500
Sales of America the Beautiful 5 Oz. Silver Bullion Coins*
YTD 2011
Gettysburg National Military Park 5 oz. Silver Coin
126,700
Glacier National Park 5 oz. Silver Coin
126,700
Olympic National Park 5 oz. Silver Coin
84,100
Vicksburg National Military Park 5 oz. Silver Coin
33,800
Chickasaw Park 5 oz. Silver Coin
26,400
TOTAL
397,700