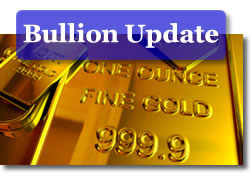 U.S. stocks, precious metals and other markets tumbled Monday as investor confidence in a successful resolution to Europe's debt crisis sank, propelling gains in the U.S. dollar. As the greenback pushed higher and the euro fell to a two-week low, gold prices dropped to their lowest level since October 25.
"The stronger dollar is hurting gold," Miguel Perez-Santalla, a sales vice president at Heraeus Precious Metals Management in New York, said in a telephone interview that was cited on Bloomberg. "People are dumping all commodities, including gold, because of what is happening in Europe."
Gold prices declined $48.60, or 2.8 percent, to $1,668.20 an ounce in the February futures contract on the Comex in New York. Gold prices ranged from a low of $1,660.30 to a high of $1,718.60. While advancing modestly Friday, gold lost 2.0 percent last week.
"Apparently, the 'realization' about the fifth EU summit's outcome that we referred to in our Friday closing line has begun to settle in among global investors over the weekend," noted Jon Nadler, Senior Analyst at Kitco Metals Inc.

"Almost all traces of optimism that the Marseille meeting engendered were wiped clean of the markets' slate overnight and the lifespan of the after-effects of it is turning out to be on par with that of a common fruit fly.  Investors set out to sell equities and commodities with somewhat of a vengeance overnight and brought gold down."
Silver prices for March delivery plummeted $1.251, or 3.9 percent, to settle at $31.002 an ounce. Silver hit a low of $30.920 and reached a high of $32.300.
Platinum prices for January delivery fell $28.90, or 1.9 percent, to $1,486.90 an ounce, ranging from $1,483.50 to $1,520.00.
Palladium prices for March delivery lost $23.50, or 3.4 percent, to $663.00 an ounce, trading between $653.25 and $684.90.
London Precious Metals
Earlier fixed London precious metals also declined. When comparing London fixings on Monday (PM) from those on Friday (PM), gold prices gave back $49.50 to $1,659.50 an ounce.
"In the near term, we believe gold will push lower at least down to the $1,615 area but possibly more," Reuters quoted Tom Fitzpatrick, chief technical strategist of CitiFX, Citigroup's technical research unit. "The head-and-shoulder top we have suggests that we can get a lot closer to the lows we saw in September down toward or below $1,550 an ounce."
In other London precious metals prices, silver lost 78.0 cents to $31.22 an ounce, platinum shed $11.00 to $1,485.00 an ounce and palladium declined $7.00 to $663.00 an ounce.
U.S. Mint Bullion Coins
Lower precious metals have been a boon for U.S. Mint bullion coins. The Mint's gold bullion pieces each rose Monday and have advanced in five of the last six days. The Gold Buffalo added 500 with December sales of 8,500. That matches their entire November total. The one ounce Gold Eagle added 4,000 with December sales of 20,000, or 18,500 below the previous month's total.
Advancing also was the Mint's American Silver Eagle. Sales picked up by 325,000, bringing their monthly total to 1.231 million and their year-to-date total to above 39 million.
The latest daily, monthly, and year-to-date U.S. Mint bullion coin sales follow:
Sales of U.S. Mint American Eagle and Buffalo Bullion Coins
Daily Gains
December Gains
YTD 2011
American Gold Eagle Coin (1 oz.)
4,000
20,000
864,500
American Gold Eagle Coin (1/2 oz.)
0
0
65,000
American Gold Eagle Coin (1/4 oz.)
0
0
82,000
American Gold Eagle Coin (1/10 oz.)
0
0
370,000
American Gold Buffalo Coin (1 oz.)
500
8,500
162,000
American Silver Eagle (1 oz.)
325,000
1,231,000
39,090,500
Sales of America the Beautiful 5 Oz. Silver Bullion Coins
Gains Over Last Week
YTD 2011
Gettysburg National Military Park 5 oz. Silver Coin
n/a – sold out
126,700
Glacier National Park 5 oz. Silver Coin
n/a – sold out
126,700
Olympic National Park 5 oz. Silver Coin
0
83,300
Vicksburg National Military Park 5 oz. Silver Coin
0
32,500
Chickasaw Park 5 oz. Silver Coin
400
25,100
TOTAL
400
394,300