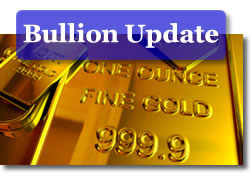 Precious metals settled mixed Friday but each notched significant weekly gains. Palladium led the major metals, jumping 13.3 percent. Silver prices surged 5.4 percent. Gold followed with its own 3.9 percent weekly increase while platinum scored a more modest advance of 1.0 percent.
In closing the week, gold prices tacked on $11.50, or 0.7 percent, to $1,751.30 an ounce in the December futures contract on the Comex in New York. Gold touched an intraday low of $1,741.70 and reached as high as $1,767.10.
"Gold investors seem more optimistic about economic recovery by looking at U.S. jobs figures and (possible) euro zone stimulus, and more importantly the inflationary aspects of them," Reuters quoted George Gero, vice president of RBC Capital Markets.
On Friday, U.S. government data showed that the unemployment rate fell to 8.6 percent in November, the lowest level since March 2009. On the euro zone front, central banks around the world agreed to make it cheaper for European banks to borrow U.S. dollars. That news broke mid-week, lifting precious metals and other commodities.
In dollar terms, gold gained $65.60 this week after dropping $39.40 last week. Higher gold prices are expected again next week according to the latest gold survey conducted by Kitco News.
"Courtesy of Tuesday's central bank action, nearly all participants in the weekly Kitco News Gold Survey expect the gains gold posted this week to continue into next week.

In the Kitco News Gold Survey, out of 32 participants, 21 responded this week. Of those 21 participants, 19 see prices up, while one sees prices down, and one sees prices sideways or unchanged. Market participants include bullion dealers, investment banks, futures traders and technical chart analysts.

The central bank liquidity injection to help make it easier for European banks to access U.S. dollars is considered bullish for gold (and other hard assets) as more money is flushed into the global economy… In addition, others pointed to the inflows of…"
The previous Kitco survey had participants correctly forecast higher prices by a margin of 10 to 5.
With this week's gain, gold is higher on the year by $329.90, or 23.2 percent.
Other Precious Metals Futures
Silver prices for March delivery dipped 7.3 cents, or 0.2 percent, to close at $32.686 an ounce. The white metal moved from a low of $32.365 to a high of $33.740. On the year — and thanks mostly to its $1.67 weekly gain, silver has climbed $1.749, or 5.7 percent.
Platinum prices for January delivery shed $8.70, or 0.6 percent, to $1,548.50 an ounce, trading from $1,546.00 to $1,573.00. Platinum in 2011 has declined $229.70, or 12.9 percent.
Rounding out the metals action, palladium prices for March delivery settled up $15.65, or 2.5 percent, to $645.85 an ounce, ranging between $630.10 and $663.00.
"According to Norilsk Nickel (Russia's top palladium producer), state palladium stocks are almost exhausted. This is countered by growing demand from the automotive industry and new applications such as Blue-ray DVDs. We thus anticipate considerable upside potential for palladium following this year's price slump," analysts at Commerzbank said in a note to clients.
The mentioned slump is a $157.65, or 19.6 percent, making palladium the worst performing precious metal in 2011.
London Precious Metals
London precious metals were mixed Friday with all but palladium declining. Losses were modest for the other metals, however. When comparing London fixings on Friday (PM) from those on Thursday (PM):
Gold prices declined $5.00 to $1,747.00 an ounce,
Silver shed 13.0 cents to $33.150 an ounce,
Platinum lost $2.00 to $1,559.00 an ounce, and
Palladium declined $20.00 to $653.00 an ounce
Impressive advances were logged on the week, including 3.5 percent for gold, 6.1 percent for silver, 2.0 percent for platinum and a whopping 14.2 percent for palladium.
U.S. Mint Bullion Coin Weekly Sales
Call it a no show for U.S. Mint bullion coins during the last two business days. That keeps December bullion totals at zero.
Bullion sales on a weekly basis were lackluster, although the American Silver Eagle advanced 400,000 for its best 7-day pick up in over a month. Since November, Silver Eagle sales have dived. Before then, it was common for weekly levels to average at least in the 750,000 area.
The newest daily, weekly, monthly, and year-to-date U.S. Mint bullion coin sales follow:
Sales of U.S. Mint American Eagle and Buffalo Bullion Coins
Daily Gains
Prior Weekly
Weekly Gains
December Gains
YTD 2011
American Gold Eagle Coin (1 oz.)
0
17,500
5,000
0
844,500
American Gold Eagle Coin (1/2 oz.)
0
0
0
0
65,000
American Gold Eagle Coin (1/4 oz.)
0
2,000
0
0
82,000
American Gold Eagle Coin (1/10 oz.)
0
5,000
0
0
370,000
American Gold Buffalo Coin (1 oz.)
0
4,000
500
0
153,500
American Silver Eagle (1 oz.)
0
140,000
400,000
0
37,859,500
Sales of America the Beautiful 5 Oz. Silver Bullion Coins*
Weekly Gains
YTD 2011
Gettysburg National Military Park 5 oz. Silver Coin
n/a – sold out
126,700
Glacier National Park 5 oz. Silver Coin
n/a – sold out
126,700
Olympic National Park 5 oz. Silver Coin
0
83,300
Vicksburg National Military Park 5 oz. Silver Coin
0
32,200
Chickasaw Park 5 oz. Silver Coin
0
24,400
TOTAL
0
393,300
*The United States Mint does not provide daily sales figures for its 5-ounce silver coins. The sales are current as of Monday, November 28, 2011.