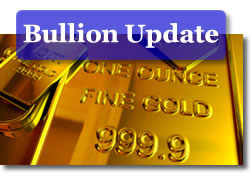 Gold prices once again closed below $1,700 an ounce Wednesday — the second time this week, although losses were significantly pared from earlier session lows.
"It's still all about Europe. The deteriorating situation has been affecting all of the markets, but the failure of the super-committee to reach a compromise on U.S. debt is now weighing in too," wrote Mary Anne & Pamela Aden, well-known analysts and editors of The Aden Forecast.
Gold prices ended down $6.50, or 0.4 percent, to $1,695.90 an ounce in the December futures contract on the Comex in New York. Gold prices moved between a low of $1,677.10 and a high of $1,710.80.
"Tuesday's hard-fought gains in the precious metals complex evaporated overnight in the wake of a heavy surge in French and Belgian bond yields and the news that China's 'flash' manufacturing survey for November shows a degree of contraction not witnessed in nearly three years," noted Jon Nadler, Senior Analyst at Kitco Metals Inc.
Silver prices for December delivery declined $1.067, or 3.2 percent, to $31.884 an ounce after soaring $1.84 on the previous day. Silver traded between $31.220 and $32.870.
Platinum prices for January delivery lost $12.70, or 0.8 percent to $1,558.30 an ounce, ranging from $1,539.10 to $1,574.70.
Palladium prices for December delivery shed $11.30, or 1.9 percent, to $589.85 an ounce, trading between $580.65 and $608.80.
London Precious Metals
Excluding platinum which remained unchanged at $1,554.00 an ounce, earlier London Fix precious metals prices retreated. When comparing London fixings on Wednesday (PM) from those on Tuesday (PM), gold prices declined $18.00 to $1,681.00 an ounce, silver dipped 34.0 cents to $31.51 an ounce and palladium lost $1.00 to $587.00 an ounce.
U.S. Mint Bullion Coin Sales
U.S. Mint authorized buyers ordered more one-ounce gold bullion coins Wednesday. Sales of the 22-karat American Gold Eagle advanced 1,500 while the 24-karat American Gold Buffalo added 500. The latest available daily, monthly, and year-to-date U.S. Mint bullion coin sales figures follow. All sales represent coin totals, not ounces of gold or silver coins sold.
Sales of U.S. Mint American Eagle and Buffalo Bullion Coins
Daily Gains
November Gains
YTD 2011
American Gold Eagle Coin (1 oz.)
1,500
21,500
827,500
American Gold Eagle Coin (1/2 oz.)
0
0
65,000
American Gold Eagle Coin (1/4 oz.)
0
4,000
82,000
American Gold Eagle Coin (1/10 oz.)
0
15,000
370,000
American Gold Buffalo Coin (1 oz.)
500
6,000
151,000
American Silver Eagle (1 oz.)
0
884,000
37,359,500
Sales of America the Beautiful 5 Oz. Silver Bullion Coins*
YTD 2011
Gettysburg National Military Park 5 oz. Silver Coin
126,700
Glacier National Park 5 oz. Silver Coin
126,700
Olympic National Park 5 oz. Silver Coin
83,300
Vicksburg National Military Park 5 oz. Silver Coin
32,200
Chickasaw Park 5 oz. Silver Coin
24,400
TOTAL
393,300
*The United States Mint does not provide daily sales figures for its 5-ounce silver coins. The sales are current as of Friday, November 18, 2011.