Catching most collectors off-guard, the United States Mint on Tuesday indicated that the 2011 Proof American Silver Eagle is no longer available. Visitors to the proof Silver Eagle page on the Mint's website are greeted with a red "Sold Out" announcement informing them of its new status.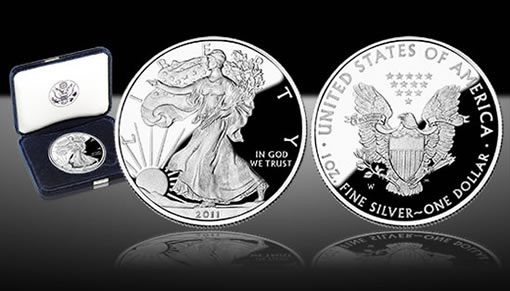 According to a United States Mint report with updated sales as of Monday, 850,000 have been sold individually. (The report also shows the coins as no longer available.) Another 100,000 were struck and sold as part of the American Silver Eagle 25th Anniversary Set which was released last month and quickly sold out.
The 2011 Proof American Silver Eagle was first released on June 30, 2011 with a household order limit in place of 100 and a price point of $59.95 per coin. That limit was removed two weeks later and fluctuating precious metal markets forced price changes to the Eagle twice during their availability. (They sold out at their latest price of $58.95.)
While the sell out announcement came with little to no warning, those who paid attention to past mintages may have had an idea of the impending possibility. As shown in the chart below, proof American Silver Eagle mintages for the last several years have hovered in the same general range.
| | |
| --- | --- |
| Year | Individual Proof America Silver Eagle Mintage |
| 2005 | 816,663 |
| 2006 | 843,602 |
| 2007 | 821,759 |
| 2008 | 700,979 |
| 2009 | N/A |
| 2010 | 860,000 |
| 2011 | 850,000* |
*Estimated figure based on United States Mint weekly sales information as of November 21, 2011. Does not include the 100,000 sold within the American Silver Eagle 25th Anniversary Set.
As indicated by the chart above, typical Silver Eagle mintages have been in the 800,000 plus range since 2005. The only notable exceptions occurred in 2008 and 2009. Those familiar with the strikes will recall that the United States Mint abruptly stopped selling the Eagles in 2008 as all available blank planchets were diverted to bullion coin production. That same record demand for the bullion Eagles continued in 2009, leading the Mint to cancel their production altogether that year.
Even last year's release, assumed to be hot owing to the aforementioned cancellation the previous year, "only" saw an estimated 860,000 struck. That places this year's estimated mintage of 850,000 individual proofs right in the ballpark.
Eagle enthusiasts do have some cause to be upset by the sell-out announcement, however. The coin is a hot item during the holidays as many look to the strikes as ideal gifts. Even the United States Mint acknowledged as much when it included them in the 2011 Holiday Catalog which many collectors only just received.
Now, collectors who want more proof Silver Eagles have no choice but to turn to the secondary market.