Last week the United States Mint stopped selling the 24-karat proof version of the Mary Todd Lincoln First Spouse Gold Coin. Sales were scheduled to continue until December 1, 2011, but the Mint apparently sold the entire inventory. The coin's information page, similar to the uncirculated version some time ago, is now located on the "No Longer Available'" area of the bureau's website.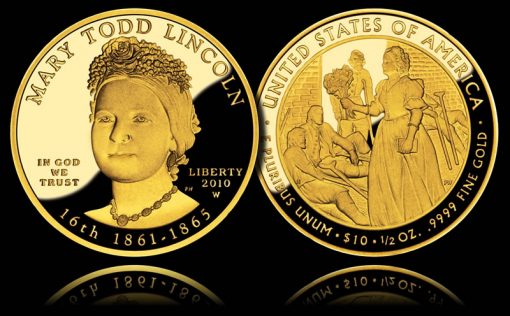 The United States Mint began selling both the proof and the uncirculated versions on December 2, 2010. Their original published mintage limit was set at 20,000 across both options, with the ratio determined on buying trends of customers.
20,000 orders did not occur, and the United States Mint removed each First Spouse Gold Coin from its catalog before one year was up — the time frame used most often for spousal releases before they naturally go off sale. As mentioned, the uncirculated issue was the first to go, having sold out in June 2011 with sales sitting at 3,760. According to the latest United States Mint sales figures as of Monday, collectors purchased 6,909 of the now sold out Mary Todd Lincoln proof coins. Combined, their total mintage was 10,663 — well shy of the initially published 20,000 mintage.
[View First Spouse Gold Coin Mintages/Sales to see how Mary Todd Lincoln's sales compare to past and current releases.]
The First Spouse Gold Coin series began in 2007, and each coin carries a $10 face value. The Mary Todd Lincoln designs were the seventeenth in the program and the fourth to launch in 2010. When they were released, the proof cost $854 and the uncirculated was $841. On the last day of its availability, the proof was priced at $1,054 after having been raised several times over the past 11 months due to higher gold prices.
Collectors who waited too long to buy from the Mint will now have to look for the one-half ounce, .9999 fine gold coins on the secondary market. As of this writing, current prices for top graded issues are showing up for a few hundred more than what the Mint most recently charged. A few of the lower graded samples are available around the Mint's last price.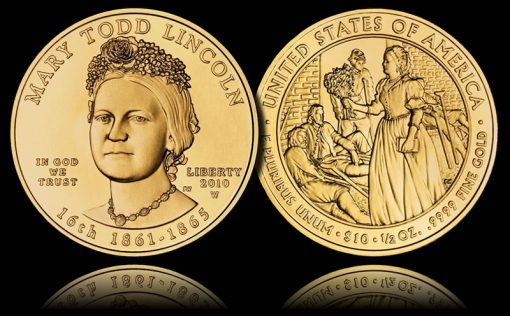 Mary Lincoln First Spouse Gold Coins feature a reverse of the first lady holding flowers and books for wounded Union soldiers. The obverse shows her portrait. The reverse was designed by Joel Iskowitz and engraved by Phebe Hemphill, while the obverse was both designed and engraved by Phebe Hemphill.
There are currently six other First Spouse Gold Coins available which may be purchased from the United States Mint at its site usmint.gov/catalog or via 1-800-USA-MINT (872-6468) . The designs for these proof and uncirculated versions honor Eliza Johnson, Julia Grant, and Lucy Hayes. Two more will soon join the list. The United States Mint is scheduled to launch coins honoring Lucretia Garfield on December 1, 2011.