The United States Mint on Thursday, December 2, launched the new Mary Todd Lincoln First Spouse Gold Coins. The $10 denominated coins are struck from one-half ounce of 24 karat (.9999 fine) gold and are offered in collector proof and uncirculated conditions.
The initial selling price of the proof version is $854 while the uncirculated option is priced at $841. US Mint First Spouse Gold Coin prices are subject to change weekly, according to the US Mint gold coin pricing policy which links the London Fix market price of gold to the selling price of the Mint's precious metal coins.
Mary Todd Lincoln First Spouse Gold Coins: Designs and Mintage
On the obverse (heads side) of the Mary Told Lincoln First Spouse Gold Coins is a portrait of her that was designed and sculpted by Phebe Hemphill. The reverse was designed by Joel Iskowitz and sculpted by Phebe Hemphill. It shows Mrs. Lincoln with flowers and a book for Union soldiers.
There is a mintage limit of 20,000 across both options for the Mary Lincoln coins. Previous 2010 First Spouse Gold Coins have limits of 15,000, and issues from 2007 until 2009 had limits of 40,000. Only the first three issues in the series sold out, while more recent 2009 coins ended up with mintages between 7,000 and 10,000. The US Mint is anticipating that the Mary Lincoln coins will experience more demand than earlier issues from this year, given her popular husband Abraham Lincoln.
The US Mint also released a Mary Todd Lincoln Bronze Medal similar to the gold coin for a price of $5.50.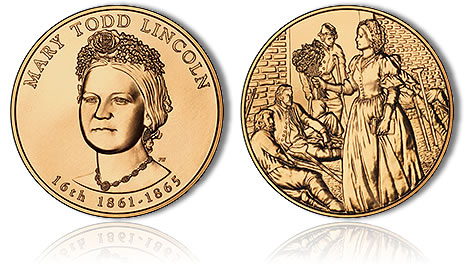 Although Abraham Lincoln was the sixteenth President, Mary Lincoln's coins and medal are the seventeenth in the U.S. Mint First Spouse series that honors the former First Ladies of U.S. Presidents. The reason is that the tenth President, John Tyler, had two wives, after the first one died during his second year in office.
Additionally, the US Mint on Thursday released the 2010 First Spouse Medal Set for $15.95. The set features medals in the likeness of this year's:
The US Mint did not publish a maximum mintage for the bronze medals.
Orders for the Mary Todd Lincoln coins and medals may be placed at http://www.usmint.gov/ or by phone at 1-800-USA-MINT (872-6468). Hearing and speech-impaired customers may order by calling TTY 1-888-321-MINT (6468).
Mary Todd Lincoln Biography
Born in Kentucky on December 13, 1818, Mary Lincoln grew up with many siblings. She was privately schooled and learned to speak French fluently and became educated in many other fields. In 1839, she moved to Springfield, Illinois to live with her sister, and it was three years later when Mary married lawyer and politician Abraham Lincoln.
The couple worked on both Abe's career as well as their family. They had four sons, but Edward, their second, died at age 3.
When Abraham Lincoln began his first term as President of the United States in 1861, the American Civil War had just started. Besides attending to the social duties of the First Lady, Mary was often seen caring for and visiting wounded Union soldiers located throughout the nation's capitol.
Their third son, William, died while Abraham was President, in 1862.
In April 1865, with the successful close of the Civil War and the start of Abraham's second term in office, Mary witnessed her husband's assassination during a play at the Ford Theater.
Mary Todd Lincoln passed away at age 63 in 1882 and was laid to rest in the Lincoln Tomb next to her husband.