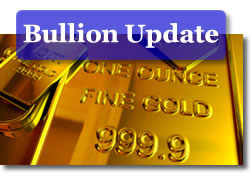 Gold edged higher Tuesday as its safe-haven appeal won out over a stronger U.S. dollar.
Gold prices rose $3.80, or 0.2 percent, to $1,782.20 an ounce in the December futures contract on the Comex in New York. Gold ranged from an intraday low of $1,760.90 to a high of $1,787.80. The yellow metal retreated $9.70 on Monday.
"We do see very active physical and safe-haven buying on dips. Even though we do see pressure from a stronger dollar, dips are seen as buying opportunity and key support levels have held," Reuters quoted David Meger, director of metals trading of futures broker Vision Financial Markets.
Silver prices for December delivery advanced 43.2 cents, or 1.3 percent, to $34.456 an ounce. The white metal traded between $33.75 and $34.835. Silver lost 65.8 cents during the previous day. Jim Wyckoff of Kitco Metals Inc. writes in the Tuesday Kitco Roundup about silver's near-term technicals:
"December silver futures prices closed nearer the session high Tuesday. The key 'outside markets' were in a neutral posture for silver, as the U.S. dollar index was higher and crude oil prices were also higher.

The silver bulls have the overall near-term technical advantage. A seven-week-old uptrend is in place on the daily bar chart. Silver bulls' next upside price objective is producing a close above solid technical resistance at the October high of $35.70 an ounce.

The next downside price breakout objective for the bears is closing prices below solid technical support at the November low of $32.105. First resistance is seen at Tuesday's high of $34.835 and then at $35.00. Next support is seen at Tuesday's low of $33.75 and then at $33.50. Wyckoff's Market Rating: 6.0."
Platinum declined for a second session. Platinum prices for January delivery edged down $1.40, or 0.1 percent, to $1,642.70 an ounce. The metal ranged from $1,623.10 to $1,657.00.
Palladium advanced, the only precious metal into its second day of gains. Palladium prices for December delivery edged up $2.75, or 0.4 percent, to $667.05 an ounce. Palladium traded between $656.70 and $670.00.
London Precious Metals
London precious metals were split after two straight days of advances. London fixings on Tuesday (PM) from those on Monday (PM) placed gold $9.00 higher to $1,785.00 an ounce and put palladium up $1.00 to $661.00 an ounce. Losses included 36.0 cents for silver at $34.02 an ounce and $17.00 for platinum at $1,629.00 an ounce.
U.S. Mint Bullion Coin Sales
U.S. Mint bullion coin levels were nearly unchanged Tuesday. The Mint published a gain of 5,000 for its smallest (one-tenth ounce) American Gold Eagle — its first increase in November. No other advances were reported. The latest available daily, monthly, and year-to-date U.S. Mint bullion coin sales figures follow. All sales represent coin totals, not ounces of gold or silver coins sold.
Sales of U.S. Mint American Eagle and Buffalo Bullion Coins
Daily Gains
November Gains
YTD 2011
American Gold Eagle Coin (1 oz.)
0
11,500
817,500
American Gold Eagle Coin (1/2 oz.)
0
0
65,000
American Gold Eagle Coin (1/4 oz.)
0
2,000
80,000
American Gold Eagle Coin (1/10 oz.)
5,000
5,000
360,000
American Gold Buffalo Coin (1 oz.)
0
1,500
146,500
American Silver Eagle (1 oz.)
0
819,000
37,294,500
Sales of America the Beautiful 5 Oz. Silver Bullion Coins*
YTD 2011
Gettysburg National Military Park 5 oz. Silver Coin
126,700
Glacier National Park 5 oz. Silver Coin
126,700
Olympic National Park 5 oz. Silver Coin
83,300
Vicksburg National Military Park 5 oz. Silver Coin
32,200
Chickasaw Park 5 oz. Silver Coin
24,400
TOTAL
393,300
*The United State Mint does not provide daily sales figures for its 5-ounce silver coins. The sales are current as of Monday, November 14, 2011.