The United States Mint scheduled a launch ceremony and coin exchange for the James A. Garfield Presidential $1 Coin on Thursday, November 17, 2011.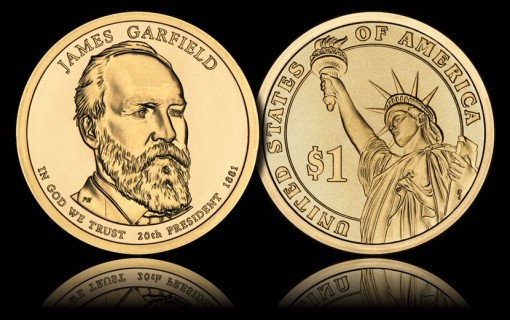 Open to the public, the events will take place at the James A. Garfield National Historic Site located at 8095 Mentor Ave in Mentor, Ohio, which is about 30 minutes east of Cleveland. The ceremony will start at 10 AM Eastern Time with the coin exchange immediately following.
James Garfield purchased the nearly eight acre site for his large family in 1876. It consisted of a main house with a large front lawn and several out buildings. Today it also has a public visitor's center to honor Garfield's life, presidency, and death. President Garfield was inaugurated on March 4, 1881 but was shot by a disgruntled lawyer on July 2. He died September 19, 1881 after only 200 days in office.
The keynote address at the ceremony will be given by Dr. Allan Peskin, Professor Emeritus of History at Cleveland State University and author of Garfield, a biography of the President. Also on hand will be Marc Landry, Acting Associate Director of Manufacturing at the United States Mint and Rudolph Garfield, great-grandson of former President Garfield. The ceremony will occur on the same day that the dollar is released into circulation through Federal Reserve Banks.
Coin Exchange, $1 Rolls Availability
Immediately after the ceremony, children in attendance who are 18 years old and younger will receive a Garfield $1 coin for free. Others will also have an opportunity to get the new dollar, as a coin exchange will be set up at the ceremony by Cardinal Community Credit Union of Mentor. For cash, ceremony attendees can get $25 rolls of the coins at face value.
Those collectors who cannot attend the ceremony may also buy the new $1 coins directly from the United States Mint (http://www.usmint.gov/) beginning at noon Eastern Time on the same day. Each roll is priced at $39.95. Buyers will have the choice of strikes from either United States Mint facilities in Philadelphia or Denver.
$1 Coin Design
Garfield's dollar is the fourth of the 2011 Presidential $1 Coins and the 20th in the series commemorating American presidents.
The obverse features a portrait of James Garfield that was sculpted and engraved by Phebe Hemphill. Inscriptions include "JAMES GARFIELD," "IN GOD WE TRUST," "20TH PRESIDENT" and "1881."
Each presidential dollar shares a common reverse design. It is the image of the Statue of Liberty which was designed and sculpted by Don Everhart. Inscriptions include "UNITED STATES OF AMERICA" and "$1."
Edge inscriptions include "2011" and "E PLURIBUS UNUM."
Earlier strikes in 2011 included coins honoring Andrew Johnson, Ulysses S. Grant, and Rutherford B. Hayes. Coming in 2012 will be coins featuring Chester A. Arthur, Grover Cleveland, and Benjamin Harrison. Grover Cleveland served two non-consecutive terms, making him the 22nd and the 24th President.