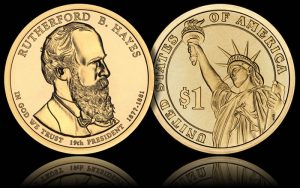 The U.S. Mint announced plans to host a public launch ceremony and coin exchange for the Rutherford B. Hayes Presidential $1 Coin on August 18, 2011. The dollar is the third of four 2011 Presidential $1 Coins.
The release ceremony will be held in the Rutherford B. Hayes Presidential Center at Spiegel Grove in Fremont, Ohio beginning at 10 AM (Eastern Time). The main entrance to the center can be found at the corner of Hayes and Buckland avenues.
President Rutherford B. Hayes and his wife Lucy lived at the Spiegel Grove estate following his term in the White House. The Hayes Museum was the nation's first presidential center, opening in May of 1916. The Hayes home did not open for public tours until 1966.
The launch ceremony will be the first public unveiling of the dollar and will occur on the same day that it is released into circulation through Federal Reserve Banks.
Coin Exchange, $1 Rolls Availability
Following the ceremony, children 18 and under in attendance will be given a free coin from United States Mint and other officials. Adults will be offered an opportunity to exchange cash for rolls of the coins at face value with representatives of Croghan Colonial Bank. Each roll will contain 25 dollars. There is an announced limit of 20 rolls per person.
As always, collectors who are unable to attend the ceremony may also obtain the new strikes directly from the United States Mint. August 18 is also the day the Mint will begin selling rolls for $39.95 each. The choice of circulation quality coins from either the United States Mint facility in Denver or Philadelphia will be available.
$1 Coin Design
A portrait of Rutherford B. Hayes is on the obverse and was designed and engraved by Don Everhart. It has the inscriptions of RUTHERFORD B. HAYES, IN GOD WE TRUST, 19TH PRESIDENT and 1877-1881.
The reverse is the same for all of the Presidential Dollar Coins. It is an image of the Statue of Liberty, designed by Don Everhart. It contains the inscriptions UNITED STATES OF AMERICA and $1. Edge inscriptions include the year of minting and E PLURIBUS UNUM.
As mentioned, Hayes' coin marks the third of four 2011 Presidential coin designs. The two earlier issues included strikes honoring the 17th President, Andrew Johnson and the 18th President, Ulysses S. Grant. Rutherford B. Hayes served as the 19th, and the last coin will honor James Garfield, the 20th President.
The Presidential Coin series debuted in 2007 and features circulating dollar coins that honor four former Presidents each year. The coins are released in the order in which the individual served. By law the U.S. Mint program (http://www.usmint.gov/mint_programs/$1coin/) is scheduled to run through at least 2016, although certain members of Congress recently proposed legislation that would end the series early.