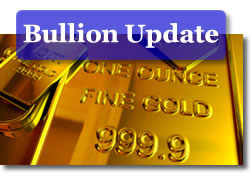 Gold prices rebounded nearly $29 Friday after a pounding loss on the previous day. A weaker U.S. dollar was supportive of precious metals in general. For the week, gold advanced $32.00, or 1.8 percent.
Other weekly gains included a matching 1.8 percent for silver and dual 1.1 percent increases for platinum and palladium. Gold was the media headline grabber, rising for three consecutive weeks as other major metals will now attempt a streak beyond one.
"Throughout history gold has protected people from the sort of turmoil that we're seeing," Bloomberg quoted Mark O'Byrne, the Dublin-based executive director of GoldCore Ltd., a brokerage that sells everything from quarter-ounce British Sovereigns to 400-ounce bars. It's "an important thing to own when there is this sort of volatility in stock markets and concern about currency devaluations."
On Friday, gold prices rallied $28.50, or 1.6 percent, to $1,788.10 an ounce in the December futures contract on the Comex in New York. The yellow metal ranged from an intraday low of $1,745.00 to a high of $1,789.40. Gold did tread with lower closes twice this week. The biggest drop in three weeks occurred on Thursday when prices fell $32. Its volatile swings should instill caution.
"We are concerned about the lack of liquidity in the market, and we are even more concerned about how readily gold seems capable of falling $25-$35 an ounce at the very slightest sum of selling," Reuters quoted Dennis Gartman, a veteran trader and market commentator.
Last week prices moved through a range difference of $88.30. This week the difference was down at $67.80. Gold's intraday low of the week was on Thursday at $1,736.60 an ounce while it topped out Tuesday at a six-week high when it reached $1,804.40 an ounce.
Gold prices are expected to move higher again next week according to most participants in the latest gold survey conducted by Kitco News.
"Continued uncertainty over the economic health of southern European countries is expected to support gold prices next week, with the majority of participants in the weekly Kitco News Gold Survey forecasting higher prices.

In the Kitco News Gold Survey, out of 34 participants, 22 responded this week. Of those 22 participants, 18 see prices up, while two see prices down and two see prices sideways or unchanged. Market participants include bullion dealers, investment banks, futures traders and technical chart analysts.

With the prime ministers of Greece and Italy resigning or planning to step down over their enormous debt problems and the possibility of the situation deteriorating, several participants said …"
The majority of Kitco's survey participants have correctly forecasted gold's direction for three straight weeks. Kitco's previous weekly survey had 21 participants call higher gold prices. Only 3 expected them lower.
With the nearly 2 percent weekly advance, gold has added to its gains this year. Prices are up $366.70, or 25.8 percent, in 2011.
Weekly Gains in other Precious Metals Futures
Silver prices for December delivery rose 57.6 cents, or 1.7 percent, to $34.682 an ounce, trading from $33.665 to $34.850. Silver has gained $3.745, or 12.1 percent in 2011.
Platinum prices for January delivery added $19.40, or 1.2 percent, to close at $1,646.70 an ounce. Platinum moved between $1,611.90 and $1,649.00. While up for the day and week, platinum has declined $131.50, or 7.4 percent, for the year.
Palladium prices for December delivery settled at $662.80 an ounce for a gain of $15.00, or 2.3 percent. Palladium traded between a low of $644.75 and a high of $663.80. Palladium, like platinum, has fallen this year. The PGM metal is down $140.70, or 17.5 percent.
London Precious Metals
Like futures in New York, London precious metals advanced after having moved lower for two straight days. In comparing London fixings on Friday (PM) from those on Thursday (PM):
Gold gained $17.00 to $1,773.00 an ounce,
Silver prices added 6 cents to $33.77 an ounce,
Platinum edged $1.00 higher to $1,628.00 an ounce, and
Palladium climbed $3.00 to $651.00 an ounce
The metals were mixed on the week. London gold was the biggest gainer at 1.4 percent followed by a modest increase of 0.3 percent for platinum. Silver and palladium each dipped modestly with respective weekly losses of 0.5 percent and 0.2 percent.
U.S. Mint Bullion Coin Weekly Sales
For a second straight day, sales levels for U.S. Mint bullion coins remained unchanged, reinforcing one of the absolute worst weeks of the year for Mint bullion products. The 190,000 weekly increase for the bullion American Silver Eagle is a stark contrast to many past weekly amounts in 2011 that have topped 1+ million. The bullion silver coins did surpass the 37 million YTD milestone on Wednesday, adding to its ongoing annual record.
The latest available daily, weekly, monthly, and year-to-date U.S. Mint bullion coin sales figures follow:
Sales of U.S. Mint American Eagle and Buffalo Bullion Coins
Daily Gains
Prior Weekly
Weekly Gains
November Gains
YTD 2011
American Gold Eagle Coin (1 oz.)
0
5,500
3,000
8,500
814,500
American Gold Eagle Coin (1/2 oz.)
0
0
0
0
65,000
American Gold Eagle Coin (1/4 oz.)
0
2,000
0
2,000
80,000
American Gold Eagle Coin (1/10 oz.)
0
0
0
0
355,000
American Gold Buffalo Coin (1 oz.)
0
500
1,000
1,500
146,500
American Silver Eagle (1 oz.)
0
476,000
190,000
566,000
37,041,500
Sales of America the Beautiful 5 Oz. Silver Bullion Coins*
YTD 2011
Gettysburg National Military Park 5 oz. Silver Coin
126,700
Glacier National Park 5 oz. Silver Coin
126,700
Olympic National Park 5 oz. Silver Coin
82,700
Vicksburg National Military Park 5 oz. Silver Coin
31,600
Chickasaw Park 5 oz. Silver Coin
23,800
TOTAL
391,500
*The United State Mint does not provide daily sales figures for its 5-ounce silver coins. The sales are current as of Wednesday, November 9, 2011.