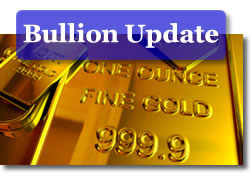 Gold declined 1.8 percent Thursday, moving opposite of U.S. stocks and other riskier bets, and falling the most in three weeks.
"Gold continues to conform to money market swings in which demand for riskier assets sometimes includes gold, and sometimes not," MarketWatch quoted Richard Hastings, a macro strategist at Global Hunter Securities. "And if the demand for stocks requires fewer new positions in spot gold, then gold declines on these trading days — like today."
Gold prices dropped $32.00 to settle at $1,759.60 an ounce in the December futures contract on the Comex in New York. The daily loss was gold's biggest since October 20. Gold moved between an intraday low of $1,736.60 and a high of $1,776.90 — the first time in three days that $1,800 an ounce was not reached.
"Momentum trading driven by technical triggers since Wednesday morning has driven continued downward pressure on the precious metals," Reuters quoted Miguel Perez-Santalla, vice president at Heraeus Precious Metals Management. "The fact that LCH Clearnet raised margins on the Italian Bonds may have caused liquidation of other assets to meet margin demands."
Silver prices for December delivery declined 25.5 cents, or 0.7 percent, to $34.106 an ounce. Prices ranged between $33.130 and $34.340.
"Gold and silver have shown what technicians at Elliott Wave have labeled a 'double divergence' and one that underscores a possibly 'fractured' market-one that is often an unhealthy one," noted Jon Nadler, Senior Analyst at Kitco Metals Inc. "The $1,600 and $32 levels for the two precious metals are the numbers to watch as they could usher in the start of their next 'major down phase' according to EW analysts."
Platinum prices for January delivery trimmed $16.40, or 1.0 percent, to $1,627.30 an ounce. The PGM metal traded from $1,606.50 to $1,636.00.
Palladium prices for December delivery settled to $647.80 an ounce, dipping $7.05, or 1.1 percent. The metal ranged between $636.00 and $652.30.
London Precious Metals
Earlier fixed London precious metals declined as a group for a second straight day. When comparing London fixings on Thursday (PM) from those on Wednesday (PM), gold fell $28.00 to $1,756.00, silver lost 87.0 cents to $33.710 an ounce, platinum stumbled $23.00 to $1,627.00 an ounce and palladium declined $14.00 to $648.00 an ounce.
U.S. Mint Bullion Coins
Sales levels for U.S. Mint bullion coins remained unchanged from Wednesday as of 4:29 p.m. ET. The latest available daily, November and 2011 bullion sales figures follow:
Sales of U.S. Mint American Eagle and Buffalo Bullion Coins
Daily Gains
November Gains
YTD 2011
Gold Eagle Coin (1 oz.)
0
8,500
814,500
Gold Eagle Coin (1/2 oz.)
0
0
65,000
Gold Eagle Coin (1/4 oz.)
0
2,000
80,000
Gold Eagle Coin (1/10 oz.)
0
0
355,000
Gold Buffalo Coin (1 oz.)
0
1,500
146,500
Silver Eagles (1 oz.)
0
566,000
37,041,500
Sales of America the Beautiful 5 Oz. Silver Bullion Coins*
YTD 2011
Gettysburg National Military Park 5 oz. Silver Coin
126,700
Glacier National Park 5 oz. Silver Coin
126,700
Olympic National Park 5 oz. Silver Coin
82,700
Vicksburg National Military Park 5 oz. Silver Coin
31,600
Chickasaw Park 5 oz. Silver Coin
23,800
TOTAL
391,500
*The as of date for sales of U.S. Mint America the Beautiful Five Ounce Silver Bullion Coins is Wednesday, November 9, 2011. The Mint does not publish daily sales for its 5-ounce coins.