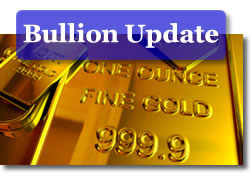 Gold dipped for the first time in three days Wednesday as the U.S. dollar surged amid turmoil in world stocks as fears escalated over Europe's debt crisis. Those fears were said to limit losses in gold, despite gains in the greenback.
"Gold prices are likely to reflect the degree of trust and confidence that investors have in the authorities to solve the (European debt) crisis," said HSBC metals analyst James Steel, according to Reuters. "Even the suggestion that some countries should be allowed to exit the euro or that the euro be scrapped altogether is itself a bullish indicator for gold."
Gold prices declined $7.60, or 0.4 percent, to $1,791.60 an ounce in the December futures contract on the Comex in New York. Gold traded from an intraday low of $1,778.80 to a high of $1,801.10.
"The general sentiment is that people want to stay away from other forms of investment until there's more certainty and that might be weeks, months or years off," Businessweek quoted Gavin Wendt, the founder and senior resource analyst at Sydney-based Mine Life Pty. "In the meantime, they're sticking their money in gold because it's a safe haven."
Silver prices for December delivery fell 78.9 cents, or 2.2 percent, to close at $34.361 an ounce. The white metal moved between $34.255 and $35.255.
Platinum prices for January delivery settled at $1,643.70 an ounce, declining $29.40, or 1.8 percent. Platinum traded between $1,635.40 and $1,676.40.
Palladium prices for December delivery closed to $654.85 an ounce, falling $22.40, or 3.3 percent. Palladium ranged from $646.55 to $679.00.
London Precious Metals
Earlier fixed London precious metals declined as a group as well. When comparing London fixes on Wednesday (PM) from those on Tuesday (PM), gold, platinum and palladium each declined $11.00. Their fixings were $1,784.00 for gold, $1,650.00 for platinum and $662.00 for palladium. Silver retreated 6.0 cents to $34.58 an ounce.
U.S. Mint Bullion Coins — 1 Ounce Gold and Silver Eagles Rise
Sales of U.S. Mint bullion coins advanced for one-ounce American Eagles. The bullion Gold Eagle rose 1,500 for a second straight day. On the silver side, the .999 fine bullion Silver Eagle climbed 50,000. That was a rather modest increase for Silver Eagles, but it was enough to push their year-to-date sales total over 37 million.
U.S. Mint daily, November and 2011 bullion coin sales follow:
Sales of U.S. Mint American Eagle and Buffalo Bullion Coins
Daily Gains
November Gains
YTD 2011
Gold Eagle Coin (1 oz.)
1,500
8,500
814,500
Gold Eagle Coin (1/2 oz.)
0
0
65,000
Gold Eagle Coin (1/4 oz.)
0
2,000
80,000
Gold Eagle Coin (1/10 oz.)
0
0
355,000
Gold Buffalo Coin (1 oz.)
0
1,500
146,500
Silver Eagles (1 oz.)
50,000
566,000
37,041,500
Sales of America the Beautiful 5 Oz. Silver Bullion Coins
YTD 2011
Gettysburg National Military Park 5 oz. Silver Coin
126,700
Glacier National Park 5 oz. Silver Coin
126,700
Olympic National Park 5 oz. Silver Coin
82,700
Vicksburg National Military Park 5 oz. Silver Coin
31,600
Chickasaw Park 5 oz. Silver Coin
23,800
TOTAL
391,500