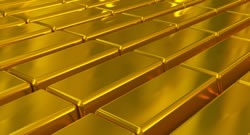 Gold and silver retreated to start the new trading week as investors booked profits following last week's sharp gains. United States Mint bullion coins, on the other hand, surged forward.
The shorter-term directions of coins and metals are likely to hinge on the Fed's two-day policy meeting that ends Thursday with the release of its monetary statement.
"Last Friday's weak U.S. jobs report likely opened the door wider for a fresh U.S. monetary stimulus announcement by the FOMC. Such would be at least initially bullish for the stock and commodity markets," noted Jim Wyckoff in the Kitco Metals Roundup.

"The consensus is not clear on whether the Fed will act this week, or wait a while. But the market place is expecting some fresh monetary stimulus sooner rather than later," Wyckoff added.
Gold for December delivery declined $8.70, or 0.5%, to settle at $1,731.80 an ounce on the Comex in New York. Gold bracketed intraday prices of $1,729.20 and $1,742.30.
In other New York futures prices:
Silver prices for December delivery dipped 5.7 cents, or 0.2%, to $33.633 an ounce. The white metal traded from an intraday low of $33.41 to a high of $34.02.

Platinum for October delivery closed at $1,603.80 an ounce, advancing $7.50 or 0.5%. Platinum ranged between $1,589.90 and $1,608.80.

Palladium for December delivery rallied $18.00, or 2.8%, to $672.75 an ounce, trading from $651.80 to $673.20.
Last week precious metals in New York registered gains of 3.1% for gold, 7.1% for silver, 3.8% for platinum and 4.0% for palladium. As for Friday:
London Precious Metals
London precious metals were mostly higher Monday. In contrasting London PM Fix prices:
Gold added $4.00, or 0.2%, to $1,732.00 an ounce,
Silver rallied $1.38, or 4.3%, to $33.60 an ounce,
Platinum was unchanged at $1,593.00 an ounce, and
Palladium advanced $14.00, or 2.2%, to $661.00 an ounce
Last week precious metals in London logged increases of 4.8% for gold, 5.6% for silver, 5.0% for platinum and 3.9% for palladium.
U.S. Mint Bullion Coins
U.S. Mint bullion products jumped Monday as the bureau's gold and silver coins posted sales totals that amounted to at least half of all last week's gains.
Sharply higher were American Gold Eagle coins with sales of 9,500 ounces, or 1,000 shy of last week's total. Also selling were 1,000 American Gold Buffalo coins. They gained 1,500 during the previous five days.
Climbing for the first time this month were America the Beautiful Five Ounce Silver Bullion Coins, thanks to Monday's release of the issue honoring Hawai'i Volcanoes National Park. 7,900 were sold for a total of 39,500 ounces. Finally, American Silver Eagle coins had one-day Monday sales of 310,000.
The following grid offers the latest daily, September and year-to-date bullion sales as published by the United States Mint.
Sales of US Mint American Eagle and Buffalo Bullion Coins
Daily Gains
September Gains
YTD 2012
$50 American Gold Eagle Coins
9,000
19,000
366,500
$25 American Gold Eagle Coins
0
0
59,000
$10 American Gold Eagle Coins
0
0
58,000
$5 American Gold Eagle Coins
5,000
10,000
225,000
$50 American Buffalo Gold Coins
1,000
2,500
90,500
American Silver Eagle Coins
310,000
989,000
23,529,000
Sales of America the Beautiful 5 Oz. Silver Bullion Coins
Daily Gains
September Gains
All-Time Total
2012 El Yunque National Forest 5 oz. Silver Coins
0
0
16,700
2012 Chaco Culture National Historical Park 5 oz. Silver Coins
0
0
17,000
2012 Acadia National Park 5 oz. Silver Coins
0
0
15,100
2012 Hawai'i Volcanoes 5 oz. Silver Coins
7,900
7,900
7,900
2011 Olympic National Park 5 oz. Silver Coins
0
0
85,900
2011 Vicksburg National Military Park 5 oz. Silver Coins
0
0
39,500
2011 Chickasaw Park 5 oz. Silver Coins
0
0
29,700
TOTAL
0
0
211,800
All sales figures above are in the number of coins sold, not the amount of ounces sold.