Launching Thursday, October 27, into an environment of extraordinary demand, the American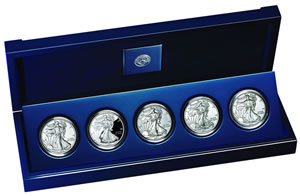 Silver Eagle 25th Anniversary Set sold out within five hours. And while none of the sets have been delivered by the United States Mint yet, many are already appearing on the secondary market at incredibly high premiums.
Before those premiums are discussed, perhaps a little background is in order… The set was issued by the United States Mint to commemorate the 25th anniversary of the American Silver Eagle Program which dates back to when the first bullion and proof versions were released in 1986.
Found within the anniversary set are a total of five Silver Eagles, including a 2011 Bullion American Silver Eagle, a 2011-W Proof American Silver Eagle and a 2011-W Uncirculated American Silver Eagle — all three of which are also available separately from the Mint. Included as well are two coins unique to the set — a 2011-S Uncirculated American Silver Eagle and a 2011-P Reverse Proof American Silver Eagle.
Many collectors have been interested in the set since it was first announced in August, owing to its anniversary appeal, limited 100,000 mintage and those two unique coins. Knowing of that interest and long before they were officially released, sets went on pre-sale in the secondary market weeks ago.
Secondary Market Values for Silver Eagle 25th Anniversary Set
eBay had well over two hundred sets listed in the days leading up to their October 27 release. Of those, collectors were willing to pay significant premiums. The "best deal," or lowest price paid, was at $400. That represents a premium of more than $100 over the Mint's selling price of $299.95. One auction actually realized $999.95. Most of the auctions had single set closing prices in the $450-$550 range.
Jump ahead to after October 27 and Silver Eagle 25th Anniversary Set values surged. Several of the single sets quickly realized prices topping $800. The average price came in around $600 per set, or just over twice the Mint's price.
Multiple sets are also up for auction on eBay. Auctions offering five complete sets are common with some of those selling for $2,295. This equates to $459 per set, a relative "bargain" compared to buying the sets individually.
Whether or not these premiums can hold once the initial buzz over the 25th Anniversary Silver Eagle Sets dies down is anyone's guess. However, given their limited mintage and up-front interest, it is likely their values will remain well above the Mint's initial selling price. History is some guide. The three-coin, 2006-dated 20th Anniversary sets have been consistently selling for at least three times their initial $100 Mint price. In fact, prices have jumped even higher as the buzz surrounding the 25th anniversary sets began booming.