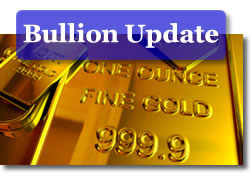 Gold and silver futures marked a fifth straight day of gains Thursday, lifting the metals $134.80 and $4.83, respectively, since they last declined one week ago.
Gold prices rose $24.20, or 1.4 percent, to $1,747.70 an ounce in the December futures contract on the Comex in New York. Gold traded from an intraday low of $1,707.20 to a high of $1,749.00.
"You've got the return of risk appetite in full force today and you've got a U.S. dollar that really is getting beaten up badly," MarketWatch quoted Matt Zeman, a trader with Kingsview Financial in Chicago.
Silver prices for December delivery jumped ahead $1.802, or 5.4 percent, to $35.112 an ounce. Silver ranged between $33.145 and $35.375. Jim Wyckoff of Kitco Metals Inc. writes about silver's near-term outlook in the Thursday Kitco Roundup:
"December silver futures prices closed near the session high Thursday and hit another fresh four-week high. The bulls this week have gained solid upside near-term technical momentum and have the overall near-term technical advantage. A four-week-old uptrend is in place on the daily bar chart.

Silver bulls' next upside price objective is producing a close above solid technical resistance at $37.00 an ounce. The next downside price breakout objective for the bears is closing prices below solid technical support at this week's low of $31.23. First resistance is seen at Thursday's high of $35.375 and then at $36.00. Next support is seen at $35.00 and then at $34.50.

Wyckoff's Market Rating: 7.0."
Platinum prices for January delivery gained $44.20, or 2.8 percent, to settle at $1,641.40 an ounce. Prices touched an intraday low at $1,594.00 and reached a high at $1,644.30.
Palladium prices for December delivery advanced $23.85, or 3.7 percent, to close at $669.90 an ounce. Palladium moved between $644.55 and $683.70.
London Precious Metals
For a fifth straight day, London precious metals moved higher as a group. In comparing London Fix prices on Thursday (PM) from those on Wednesday (PM), gold rose $3.00 to $1,718.00 an ounce, silver advanced 25.0 cents to $33.550 an ounce, platinum gained $28.00 to $1,608.00 an ounce and palladium rose $17.50 to $667.00 an ounce.
U.S. Mint Bullion Coin Sales
Sales levels for U.S. Mint bullion coins were unchanged Thursday as of 3:52 ET, although the bullion Silver Eagles certainly climbed with the mid-day launch of the Eagle anniversary set. The latest available daily, monthly and year-to-date sales figures follow:
Sales of U.S. Mint American Eagle and Buffalo Bullion Coins
Daily Gains
October Gains
YTD 2011
Gold Eagle Coin (1 oz.)
0
42,500
802,500
Gold Eagle Coin (1/2 oz.)
0
3,000
65,000
Gold Eagle Coin (1/4 oz.)
0
6,000
78,000
Gold Eagle Coin (1/10 oz.)
0
10,000
355,000
Gold Buffalo Coin (1 oz.)
0
12,500
145,000
American Silver Eagle (1 oz.)
0
2,964,000
36,375,500
Sales of America the Beautiful 5 Oz. Silver Bullion Coins*
YTD
2011
Gettysburg National Military Park 5 oz. Silver Coin
126,700
Glacier National Park 5 oz. Silver Coin
126,700
Olympic National Park 5 oz. Silver Coin
82,200
Vicksburg National Military Park 5 oz. Silver Coin
31,500
Chickasaw Park 5 oz. Silver Coin
21,600
TOTAL
389,700
*The as of date for sales of U.S. Mint America the Beautiful Five Ounce Silver Bullion Coins is Monday, October 24, 2011. The Mint does not publish daily sales for its 5-ounce coins.