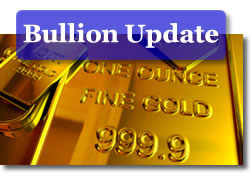 Gold futures closed lower for a second straight day Tuesday as the U.S. dollar strengthened amid news of slowing Chinese growth and a potential downgrade of France's AAA credit rating.
"Gold does not seem to garner the same safe-haven demand that we did several weeks back, when we'd have seen concerning news out of Europe have stabilizing effects on gold," Reuters quoted David Meger, director of metals trading at futures broker Vision Financial Markets. "Right now, we are back to the (inverse) dollar-gold correlation."
Gold prices fell $23.80, or 1.4 percent, to $1,652.80 an ounce in the December futures contract on the Comex in New York. Gold ranged from an intraday low of $1,628.20 to a high at $1,678.20.
Silver prices for December delivery were nearly unchanged, gaining a penny to settle at $31.831 an ounce. Silver traded between $30.370 and $32.120. Jim Wyckoff of Kitco Metals Inc. writes in the Tuesday Kitco Roundup about silver's near-term technicals:
"December silver futures prices closed nearer the session high Tuesday. Silver bulls and bears are on a level near-term technical playing field.

Silver bulls' next upside price objective is producing a close above strong technical resistance at $33.585 an ounce. The next downside price breakout objective for the bears is closing prices below solid technical support at $30.00.

First resistance is seen at Tuesday's high of $32.12 and then at this week's high of $32.675. Next support is seen at $31.50 and then at $31.00. Wyckoff's Market Rating: 5.0."
Platinum-group metals diverged as platinum declined and palladium rose.
Platinum prices for January delivery retreated $11.10, or 0.7 percent, to close at $1,540.70 an ounce. Prices moved between a low of $1,519.20 and a high at $1,562.00.
Palladium prices for December delivery advanced $3.10, or 0.5 percent, to settle at $619.90 an ounce. Palladium ranged between $598.00 and $622.70.
London Precious Metals
While the New York futures market was mixed for precious metals, London bullion declined across the board for a second straight day. In comparing London PM fixings on Tuesday from those on Monday, gold declined $51.00 to $1,631.00, silver prices fell $1.30 to $31.00, platinum lost $47.00 to $1,523.00 and palladium declined $29.00 to $606.00.
U.S. Mint Bullion Coin Sales
Buyers purchased 75,000 American Silver Eagles on Tuesday, according to the latest bullion coin sales figures from the U.S. Mint. The gain was modest when compared against the 502,000 increase from the previous day. No other bullion coin advances were published by the Mint on Tuesday.
The latest daily, weekly and year-to-date U.S. Mint bullion coin sales figures follow:
Sales of U.S. Mint American Eagle and Buffalo Bullion Coins
Daily Gains
October Gains
YTD 2011
Gold Eagle Coin (1 oz.)
0
30,500
790,500
Gold Eagle Coin (1/2 oz.)
0
2,000
64,000
Gold Eagle Coin (1/4 oz.)
0
4,000
76,000
Gold Eagle Coin (1/10 oz.)
0
0
345,000
Gold Buffalo Coin (1 oz.)
0
10,500
143,000
Silver Eagle Coin (1 oz.)
75,000
2,507,000
35,918,500
Sales of America the Beautiful 5 Oz. Silver Bullion Coins*
YTD
2011
Gettysburg National Military Park 5 oz. Silver Coin
126,700
Glacier National Park 5 oz. Silver Coin
126,700
Olympic National Park 5 oz. Silver Coin
82,200
Vicksburg National Military Park 5 oz. Silver Coin
30,500
Chickasaw Park 5 oz. Silver Coin
20,500
TOTAL
388,700
*The as of date for sales of U.S. Mint America the Beautiful Five Ounce Silver Bullion Coins is Wednesday, October 12, 2011. The Mint does not publish daily sales for its 5-ounce coins.