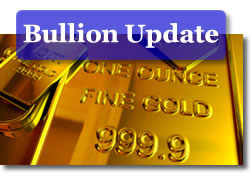 Gold on Monday rose 0.3% for a second straight session of modest gains. Silver edged a bit higher than the yellow metal at 0.5% while platinum and palladium were the clear winners on the day with respective increases 1.7% and 2.1%.
"Comex gold futures ended the U.S. day session moderately higher Monday, on some short covering and bargain hunting, and on some chart consolidation following recent choppy daily price action," noted Jim Wyckoff in the P.M. Kitco Metals Roundup.

"Risk appetite in the market place tried to improve to start the new trading early Monday. However, as the trading day wore on investors were in the mood to become more risk-averse," Wyckoff added.
Gold prices for August delivery climbed $5.40 to settle at $1,596.80 an ounce on the Comex in New York. Gold moved between intraday amounts of $1,582.70 and $1,609.30. Gold prices last week fell 1.9%.
In other precious metals closings on Monday:
Silver prices for July delivery gained 14.5 cents to $28.616 an ounce, ranging between $28.255 and $29.000.

Platinum prices for July delivery settled to $1,449.30 an ounce, advancing $24.20. Prices traded from $1,436.50 to $1,457.00.

Palladium was the best performing precious metal of the day. Palladium prices for September delivery rallied $13.15 to $625.15 an ounce, ranging from $612.50 to $630.75.
Last week the metals declined with losses of 0.1% for silver, 0.6% for platinum and 0.3% for palladium.
London Precious Metal
Earlier fixed London precious metals also started the week higher. When comparing the most recent London PM fixings:
Gold added $7.50, or 0.5%, to $1,584.00 an ounce,
Silver gained 46.0 cents, or 1.6%, to $28.63 an ounce,
Platinum tacked on $35.00, or 2.5%, to $1,452.00 an ounce, and
Palladium advanced $10.00, or 1.6%, to $623.00 an ounce
Last week in London, gold fell 1.8% while silver added 2.9%, platinum edged up 0.7% and palladium gained 1.0%.
Sales of U.S. Mint Bullion Coins
Sales of U.S. Mint bullion coins occurred across all but two of its smallest sized coins — the one-half ounce and one-tenth ounce American Gold Eagles. The half-ounce Gold Eagle marked its first increase of the month.
Overall, while bullion coin gains were diverse they were on the modest side for a start of a week and when considering the total number of ounces sold. As is often the case, U.S. Mint bullion Silver Eagles advanced the most with sales of 158,500. The coins have a bit of competition with Thursday's release of the 2012 American Silver Eagle San Francisco Two-Coin Proof Set. Containing two collectible Silver Eagles, the sets have garnered 115,059 orders in five days. That is an Eagle movement of 230,118.
The following are the latest daily, June and year-to-date bullion coin sales totals as published by the U.S. Mint.
Sales of US Mint American Eagle and Buffalo Bullion Coin
Daily Gains
June Gains
YTD 2012
American Gold Eagle Coins (1 oz.)
3,000
13,000
243,00
American Gold Eagle Coins (1/2 oz.)
1,000
1,000
55,000
American Gold Eagle Coins (1/4 oz.)
0
0
46,000
American Gold Eagle Coins (1/10 oz.)
0
5,000
155,000
American Gold Buffalo Coins (1 oz.)
500
2,000
67,000
American Silver Eagles
158,500
896,500
15,430,500
Sales of America the Beautiful 5 Oz. Silver Bullion Coins
Daily Gains
June Gains
All-Time Total
2012 El Yunque National Forest 5 oz. Silver Bullion Coins
300
1,500
6,900
2011 Olympic National Park 5 oz. Silver Bullion Coins
0
0
85,200
2011 Vicksburg National Military Park 5 oz. Silver Bullion Coins
0
200
38,600
2011 Chickasaw Park 5 oz. Silver Bullion Coins
0
0
28,900
TOTAL
300
1,700
160,600
U.S. Mint figures above are in coin totals, not the amount of ounces sold.