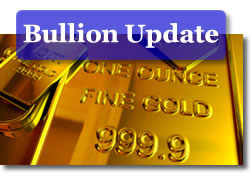 U.S. gold and silver prices started the week lower Monday after last week's gains as investors turned skittish, opined analysts, over the latest developments in Europe's sovereign debt crisis.
"With renewed concerns that Europe will not have any progress any time soon, you are seeing investors take profits on the stock markets and that spills over to the metal markets," Reuters quoted Phillip Streible, a senior strategist with MF Global. "The market has been eerily quiet for quite a long time and it's due for an explosive move."
Gold prices stepped back $6.40, or 0.4 percent, to $1,676.60 an ounce in the December futures contract on the Comex in New York. Gold ranged from an intraday low of $1,667.00 to a high at $1,696.80.
While a sprint towards $1,700-$1,725 ought not to be ruled out during coming trading sessions this week, the approach to such levels could be fraught with profit-taking selling," noted Jon Nadler, Senior Analyst at Kitco Metals Inc.

"The risk of a renewed slippage towards lower support levels in gold also remains present however, should the greenback pick up more safe-haven type of bids before the European October 23 summit. Support however is anticipated to hold at one or another lower level, as late next week the markets approach another kind of 'deadline' which has traditionally offered some relief; the start of Indian festival days."
Silver prices for December delivery declined 35.2 cents, or 1.1 percent, to settle at $31.821 an ounce. Silver traded between $31.550 and $32.675.
PGM's moved higher Friday and on the week. Platinum prices for January delivery dipped $3.10, or 0.2 percent, to close at $1,551.80 an ounce. Prices ranged from $1,545.70 to $1,583.60.
Palladium prices for December delivery declined $3.75, or 0.6 percent, to settle at $618.80 an ounce, trading between $611.60 and $647.25.
London Precious Metals
While precious metals futures declined across the board in New York, London bullion rose. In comparing fixings on Monday from those on Friday, gold advanced $4.00 to $1,682.00, silver prices climbed 48.0 cents to $32.30, platinum gained $17.00 to $1,570.00 and palladium advanced $21.00 to $635.00.
U.S. Mint Bullion Coin Sales
The U.S. Mint published sales gains across each of its one-ounce bullion coins on Monday. From low to high, the Gold Buffalo rose 1,000, the Gold Eagle added 3,000 and the Silver Eagle jumped 502,000 –nearly double the amount the .999 fine silver coins advanced all last week.
The latest daily, weekly and year-to-date U.S. Mint bullion coin sales figures follow:
Sales of U.S. Mint American Eagle and Buffalo Bullion Coins
Daily Gains
October Gains
YTD 2011
Gold Eagle Coin (1 oz.)
3,000
30,500
790,500
Gold Eagle Coin (1/2 oz.)
0
2,000
64,000
Gold Eagle Coin (1/4 oz.)
0
4,000
76,000
Gold Eagle Coin (1/10 oz.)
0
0
345,000
Gold Buffalo Coin (1 oz.)
1,000
10,500
143,000
Silver Eagle Coin (1 oz.)
502,000
2,432,000
35,843,500
Sales of America the Beautiful 5 Oz. Silver Bullion Coins*
YTD
2011
Gettysburg National Military Park 5 oz. Silver Coin
126,700
Glacier National Park 5 oz. Silver Coin
126,700
Olympic National Park 5 oz. Silver Coin
82,200
Vicksburg National Military Park 5 oz. Silver Coin
30,500
Chickasaw Park 5 oz. Silver Coin
20,500
TOTAL
388,700
*The as of date for sales of U.S. Mint America the Beautiful Five Ounce Silver Bullion Coins is Wednesday, October 12, 2011. The Mint does not publish daily sales for its 5-ounce coins.