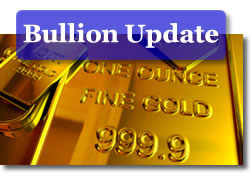 U.S gold futures settled slightly lower Monday after having rallied earlier to a high of above $1,500 an ounce.
Silver prices were again pressured, dropping 2.5 percent and closing toward $34 an ounce.
June gold prices stepped back $3.00, or 0.2 percent, to close at $1,490.60 an ounce on the Comex in New York. Gold ranged from an intraday low of $1,486.00 to a high of $1,504.30.
"Sharp losses in the crude oil market pressured the precious metals Monday, but a lower U.S. dollar index did limit the downside gold and silver," writes Jim Wyckoff of Kitco News. "The metals markets did not react significantly to the Sunday arrest of IMF leader Strauss-Kahn in New York City on rape charges."
Silver prices for July delivery declined 88.1 cents, or 2.5 percent, to settle at $34.132 an ounce. Silver prices hit a low of $34.00 and a high of $35.400.
Platinum prices for July delivery ended down $9.30, or 0.5 percent, to $1,760.00 an ounce. Platinum traded between $1,752.10 and $1,773.00.
Palladium prices for June delivery advanced $7.05, or 1.0 percent, to close at $713.50 an ounce. Prices moved from a low of $704.00 to a high of $719.50.
London precious metals prices fell. When comparing their PM fixings on Monday to those on Friday, gold lost $5.00 at $1,500.75 an ounce, silver prices fell $1.85 at $34.35 an ounce, platinum declined $14.00 at $1,760.00 an ounce, and palladium dropped $5.00 at $713.00 an ounce.
The American bullion coin levels remained unchanged Monday, according to the United States Mint website.
US Mint 2011 Bullion Coin Sales
Daily
Gains
May
2011
YTD
2011
Gold Eagle Coin (1 oz.)
0
72,500
430,500
Gold Eagle Coin (1/2 oz.)
0
20,000
53,000
Gold Eagle Coin (1/4 oz.)
0
4,000
56,000
Gold Eagle Coin (1/10 oz.)
0
15,000
215,000
Gold Buffalo Coin (1 oz.)
0
6,500
65,000
Silver Eagle (1 oz.)
0
1.506 M
16.754 M
ATB Silver Bullion (5 oz.)
0
25,000
250,400