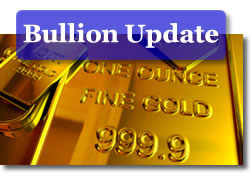 Gold advanced Thursday for a second straight day while silver prices soared to above $32 an ounce as U.S. stocks and commodities rallied.
Gold prices rose $11.60, or 0.7 percent, to close at $1,653.20 an ounce in the December futures contract on the Comex in New York. Gold moved from an intraday low of $1,633.20 to a high of $1,656.80.
"I really don't see the safe-haven attraction of gold is going to change very much because of all the financial problems in Europe and in the western world," Reuters quoted Leo Larkin, metals equity analyst at Standard & Poor's. "There is still a lack of confidence in financial assets."
Silver prices for December delivery rallied $1.653, or 5.4 percent, to $32.005 an ounce. The white metal traded between $30.240 and $32.210. Jim Wyckoff of Kitco Metals Inc. writes in the Thursday Kitco Roundup about silver's near-term technicals:
"December silver futures prices closed near the session high again Thursday. The key 'outside markets' were bullish for silver, as the U.S. dollar index was lower and crude oil prices were solidly higher.

Silver prices are still in a six-week-old downtrend on the daily bar chart. A bearish pennant pattern has also formed on the daily bar chart for silver. Silver bulls' next upside price objective is producing a close above strong technical resistance at last week's high of $33.585 an ounce.

The next downside price breakout objective for the bears is closing prices below solid technical support at the September low of $26.15. First resistance is seen at Thursday's high of $32.07 and then at $32.50. Next support is seen at $31.50 and then at $31.00. Wyckoff's Market Rating: 4.5."
Platinum prices for January delivery advanced $25.20, or 1.7 percent, to close at $1,508.10 an ounce, ranging from $1,471.30 to $1,519.70.
Palladium prices for December delivery surged $28.45, or 5.0 percent, to settle at $598.80 an ounce. Palladium traded between $571.05 and $604.00.
London Precious Metals Fixings
After two straight days of across-the-board losses, London precious metals climbed as a group. When comparing PM fixings on Thursday to those on Wednesday, gains included gold by $18.00 to $1,635.00 an ounce, silver prices by $3.11 to $31.80 an ounce, platinum by $51.00 to $1,495.00 an ounce and palladium by $39.00 to $588.00 an ounce.
U.S. Mint Bullion Coin Sales
Gains in U.S. Mint bullion coins were limited to the American Silver Eagle. It advanced 250,000, lifting 2011 sales to 34,673,500 and over the previous annual record set in 2010 at 34,662,500.
The latest daily, October and year-to-date U.S. Mint bullion coin sales figures follow:
Sales of U.S. Mint American Eagle and Buffalo Bullion Coins
Daily
Gains
October
Gains
YTD
2011
Gold Eagle Coin (1 oz.)
0
13,500
773,500
Gold Eagle Coin (1/2 oz.)
0
1,000
63,000
Gold Eagle Coin (1/4 oz.)
0
2,000
74,000
Gold Eagle Coin (1/10 oz.)
0
0
345,000
Gold Buffalo Coin (1 oz.)
0
5,000
137,500
Silver Eagles (1 oz.)
250,000
1,262,000
34.6735M
Sales of America the Beautiful 5 Oz. Silver Bullion Coins*
YTD
2011
Gettysburg National Military Park 5 oz. Silver Coin
126,700
Glacier National Park 5 oz. Silver Coin
126,700
Olympic National Park 5 oz. Silver Coin
82,200
Vicksburg National Military Park 5 oz. Silver Coin
30,500
Chickasaw Park 5 oz. Silver Coin
20,500
TOTAL
386,600
*The as of date for U.S. Mint sales of its America the Beautiful 5-ounce Silver Bullion Coins is Monday, October 3, 2011.