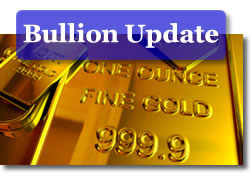 U.S gold rose modestly Wednesday and for a fourth straight day as euro zone debt concerns continued to aid safe-haven investments like gold. Silver was the biggest winner in precious metals. It rallied 4.2 percent, marking two straight days of sharp gains.
June gold prices edged up $3.40, or 0.2 percent, to $1,526.70 an ounce on the Comex in New York. Gold prices traded between $1,521.30 and $1,532.50.
"We are bullish of gold in both U.S.-dollar terms and non- U.S.-dollar terms," said Dennis Gartman, an economist and the editor of the Suffolk, Virginia-based Gartman Letter, reports Bloomberg. "The trend here is clearly to the upside as the problems in Europe prove to be more and more intractable. The trump-card currency of choice is gold, and in all likelihood, it shall become even more readily embraced, not less so, in the days and weeks ahead as Europe's problems worsen."
Silver prices for July delivery soared $1.514 to $37.642 an ounce. The metal touched a low of $36.230 and a high of $37.900. Silver prices have advanced 7.3 percent this week. They have gained 21.7 percent this year.
"Fresh inflows into gold ETFs following sizable outflows in recent weeks hint at rising investor interest," Credit Suisse Private Banking said in a note cited on Reuters. "Low real yields should prove additionally supportive. We think silver's prospects are less positive given the fundamental overvaluation and the market's heavy dependence on investor appetite."
Platinum prices for July delivery rose $17.30, or 1.0 percent, to settle at $1,779.80 an ounce. The metal ranged between $1,764.50 and $1,787.00.
Palladium prices for June delivery advanced $12.10, or 1.6 percent, to close at $747.35 an ounce. Palladium traded between $734.10 and $751.65.
London precious metals were mixed, with all but gold rising. When comparing London fixing prices on Wednesday (PM) from those on Tuesday (PM), gold lost 75 cents at $1,526.25 an ounce, silver prices rose $1.320 to $37.170 an ounce, platinum added $15.00 at $1,774.00 an ounce, and palladium advanced $5.00 to $744.00 an ounce.
1-ounce gold and silver American Eagle bullion coins have climbed for four straight days. The bullion Gold Eagle added 5,000 while the bullion Silver Eagle added 25,000. Current United States Mint bullion coin sales levels are provided in the following table:
US Mint 2011 Bullion Coin Sales
Daily
Gains
May
2011
YTD
2011
Gold Eagle Coin (1 oz.)
5,000
92,500
450,500
Gold Eagle Coin (1/2 oz.)
0
22,000
55,000
Gold Eagle Coin (1/4 oz.)
0
4,000
56,000
Gold Eagle Coin (1/10 oz.)
0
15,000
215,000
Gold Buffalo Coin (1 oz.)
0
13,500
72,000
Silver Eagle (1 oz.)
25,000
2,974,000
18,222,000
ATB Silver Bullion (5 oz.)*
0
88,700
314,100
*The ATB Silver bullion coin sales figures are generally released once a week, and have an "as of date" of Monday.