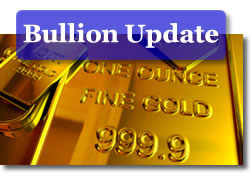 U.S. gold and silver climbed over 2 percent Monday to start the fourth quarter higher after each registered contrasting performances in the third quarter.
"We have the start of a new quarter, and gold prices typically respond very well toward the end of the year because of seasonal demand. That has attracted a lot of investors today," said Phillip Streible, senior market strategist at futures broker MF Global, according to Reuters.
Gold prices advanced $35.40, or 2.2 percent, to $1,657.70 an ounce in the December futures contract on the Comex in New York. Gold traded between $1,620.00 and $1,667.00. Gold rose 8.0 percent in the third quarter, which ended Friday.
"Gold and silver received an overdue lift on Monday primarily on the back of perceptions that Greece was headed for budgetary trouble despite austerity measures that would make Spartans envious, were they around to witness them today," noted Jon Nadler, Senior Analyst at Kitco Metals Inc.

"Demonstrating once again that the Greek crisis has more layers than a freshly-baked batch of filo dough, the situation took a turn for the worse with the announcement by the country's government that it most likely will not meet its 2011 deficit target. In order to try to appease its trio of creditors (the EU, ECB, and IMF) the Greek cabinet approved the implementation of another $8.8 billion in belt-tightening.

However, as we recently ascertained, that which this morning compelled global investors to seek safe-haven refuge in gold or silver is also the factor that has of late tended to boost the US dollar and wreak havoc in the equity markets. Such developments have a way of catching up with precious metals and the outcome is familiar to anyone who took a close look at September's market gyrations in gold and silver."
Silver prices for December delivery rose 71.2 cents, or 2.4 percent, to settle at $30.795 an ounce. Silver prices ranged between $29.670 and $31.430. The white metal dipped 13.6 percent in the third quarter.
Platinum prices for January delivery declined $6.50, or 0.4 percent, to close at $1,517.10 an ounce. The metal moved from an intraday low of $1,495.50 to a high of $1,535.50.
Palladium prices for December delivery fell $20.80, or 3.4 percent, to settle at $593.75 an ounce, trading between $584.30 and $615.45.
London Precious Metals Fixings
London precious metals were mixed, with gold and silver higher and PGM metals lowers. When comparing PM fixings from Friday to Monday, the gold fix advanced $35.50 at $1,655.50 an ounce, silver prices climbed 60.0 cents at $31.05 an ounce, platinum declined $10.00 at $1,501.00 an ounce and palladium fell $19.00 at $595.00 an ounce.
U.S. Mint Bullion Coin Sales
Every American Eagle bullion coin advanced Monday, minus the smallest one-tenth ounce American Gold Eagle. The 24-karat American Gold Buffalo also added to its total. The latest daily, October and year-to-date U.S. Mint bullion coin sales figures follow:
Sales of U.S. Mint American Eagle and Buffalo Bullion Coins
Daily
Gains
October
Gains
YTD
2011
Gold Eagle Coin (1 oz.)
7,500
7,500
767,500
Gold Eagle Coin (1/2 oz.)
1,000
1,000
63,000
Gold Eagle Coin (1/4 oz.)
2,000
2,000
74,000
Gold Eagle Coin (1/10 oz.)
0
0
345,000
Gold Buffalo Coin (1 oz.)
3,000
3,000
135,500
Silver Eagles (1 oz.)
737,000
737,000
34.1485M
Sales of America the Beautiful 5 Oz. Silver Bullion Coins*
YTD
2011
Gettysburg National Military Park 5 oz. Silver Coin
126,700
Glacier National Park 5 oz. Silver Coin
126,700
Olympic National Park 5 oz. Silver Coin
81,700
Vicksburg National Military Park 5 oz. Silver Coin
29,600
Chickasaw Park 5 oz. Silver Coin
19,100
TOTAL
386,600
*The Gettysburg and Glacier America the Beautiful Five Ounce Silver Bullion Coins are sold out. Unlike other investment-grade products, the United States Mint does not provide daily per coin sales totals for the Olympic, Vicksburg, and Chickasaw America the Beautiful Five Ounce Silver Bullion Coins. The individual totals are as of Thursday, September 29. The overall year-to-date total is current as of October 3 (2,800 of the five ounce coins have sold in October).