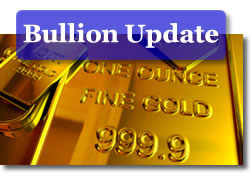 Gold was almost unchanged Thursday as prices settled more toward the intraday high than low, but still a few dozen cents below the settlement level in the previous session.
"There is so much nervousness out there about every single thing we hear from Europe," Sterling Smith, an analyst at Country Hedging Inc. in St. Paul, Minnesota, said in a telephone interview that was cited on Bloomberg. "Also, gold is attractive as the fear of slowdown is gathering momentum."
Gold prices for December delivery edged down 80.0 cents to settle at $1,617.30 an ounce on the Comex in New York. Gold traded between $1,585.00 and $1,637.90. Gold is the single precious metal that is higher on the year. It has gained 13.8 percent in 2011.
Silver prices for December delivery advanced 38.8 cents, or 1.3 percent, to close at $30.522 an ounce. The white metal ranged from an intraday low of $29.095 to a high of $31.535.
Silver prices have yet to recover from the 4-day trouncing which ended Monday and brought prices down more than $10 to below $30. Until then, silver had marked substantial gains through most of 2011. The precious metal is currently down 1.3 percent for the year. Jim Wyckoff of Kitco Metals Inc. writes in the Thursday Kitco Roundup about silver's near-term technicals:
"December silver futures prices closed near mid-range Thursday. Serious near-term chart damage has been inflicted recently. Prices are still in a six-week-old downtrend on the daily bar chart.

Silver bulls' next upside price objective is producing a close above strong technical resistance at this week's high of $33.585 an ounce. The next downside price breakout objective for the bears is closing prices below solid technical support at this week's low of $26.15.

First resistance is seen at $31.00 and then at Thursday's high of $31.535. Next support is seen at $30.00 and then at $29.50. Wyckoff's Market Rating: 3.5."
Platinum prices for October delivery closed down $5.20, or 0.3 percent, to $1,532.90 an ounce. Platinum traded between $1,510.60 and $1,556.90.
Palladium prices for December delivery declined $11.15, or 1.8 percent, to settle at $623.60 an ounce. Prices moved from a low of $616.00 to a high of $631.45.
London Precious Metals Fixings
London precious metals headed lower as a group for a second straight day. When comparing PM fixings from Wednesday to Thursday, the gold fix declined $30.00 at $1,643.00, silver prices fell 85.0 cents at $30.19, platinum declined $26.00 at $1,530.00 and palladium fell $23.00 at $621.00.
U.S. Mint Bullion Coin Sales
Sales levels for U.S. Mint bullion coins were unchanged Thursday as of 3:38 p.m. ET. The latest daily, September and year-to-date bullion coin sales figures follow:
Sales of U.S. Mint American Eagle and Buffalo Bullion Coins
Daily
Gains
September
Gains
YTD
2011
Gold Eagle Coin (1 oz.)
0
79,000
751,500
Gold Eagle Coin (1/2 oz.)
0
1,000
62,000
Gold Eagle Coin (1/4 oz.)
0
2,000
72,000
Gold Eagle Coin (1/10 oz.)
0
20,000
340,000
Gold Buffalo Coin (1 oz.)
0
12,000
131,500
Silver Eagles (1 oz.)
0
3.7255M
32.6765M
Sales of America the Beautiful 5 Oz. Silver Bullion Coins*
YTD
2011
Gettysburg National Military Park 5 oz. Silver Coin
126,700
Glacier National Park 5 oz. Silver Coin
126,700
Olympic National Park 5 oz. Silver Coin
81,500
Vicksburg National Military Park 5 oz. Silver Coin
29,400
Chickasaw Park 5 oz. Silver Coin
17,800
TOTAL
382,800
*The Gettysburg and Glacier America the Beautiful Five Ounce Silver Bullion Coins are sold out. Unlike other investment-grade products, the United States Mint does not provide daily per coin sales totals for the Olympic, Vicksburg, and Chickasaw America the Beautiful Five Ounce Silver Bullion Coins. The individual totals are as of Monday, September 19. The overall total is as of Monday, September 26 (700 additional five-ounce bullion coins sold since last week).