U.S. gold prices rose modestly Monday, as did platinum. Silver and palladium were the exceptions. Silver prices soared 2.7 percent while palladium rallied 1.5 percent.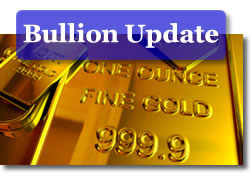 April gold prices gained 60 cents to close at $1,409.90 an ounce on the Comex in New York. The metal traded as low as $1,407.90 an ounce and as high as $1,417.00 an ounce.
"Traders returning to work on Monday found largely the same conditions that they had left work amid on Friday; no resolution to the Libyan upheaval, continued weakness in the US dollar, and suggestive coming from various Fed 'factions' as regards the prospect for a change in US interest rates," said Jon Nadler, Senior Analyst at Kitco Metals Inc.
"Inflation expectations are certainly anchored," Andrey Kryuchenkov, an analyst at VTB Capital in London, said today in a report, according to Bloomberg. There needs to be "escalating geopolitical tensions for sustained gains to December's all-time highs and beyond."
Bloomberg's Nicholas Larkin noted a reported released today indicated that inflation in the "17-nation euro region quickened to 2.3 percent in January from 2.2 percent in December." Gold is often purchased as a hedge against inflation, and moves inversely with the U.S. dollar which weakened against other world currencies on Monday.
Silver prices for May delivery, now the most active contract, surged 89.7 cents to settle at $33.820 an ounce. Silver on Monday ranged between $32.255 and $33.980. Recent rallies have pushed silver 9.3 percent higher in 2011. The metal last week on Tuesday hit its highest price in 31-years when it reached $34.315 an ounce.
Platinum prices for April delivery climbed $5.80, or 0.3 percent, to $1,809.20 an ounce. It traded between $1,798.50 and $1,827.80.
Palladium prices for June delivery advanced $12.00 to close at $799.60 an ounce. Prices ranged from $786.10 to $804.40.
Precious metals prices rose in earlier London PM fixings as well. The PM gold fix was $1,411.00 an ounce, marking an increase of $8.50 from the previous PM fixing on Friday. The London silver fixing was $33.490 an ounce for a pick-up of 95 cents. The platinum fix was $13 higher at $1,804 an ounce. The palladium PM fix was up $5 at $790.00 an ounce.
United States Mint Authorized Purchasers on Monday grabbed more American Silver Eagle bullion coins. Silver Eagle sales rose 575,000, registering a monthly total of 3.24 million and a year-to-date tally of 9.662 million. A tad over 5.64 million were sold by the Mint during the same two-month period last year.
The one-ounce American Gold Eagle bullion coins added 5,000 and have topped the 200,000 milestone for the year. 169,000 were sold between January and February 2010.
The latest United States Mint bullion sales figures follow.
U.S. Mint 2011 Bullion Coin Sales
February
2011 Totals
American Eagle Gold Coin (1 oz)
72,500
203,000
American Eagle Gold Coin (1/2 oz)
12,000
13,000
American Eagle Gold Coin (1/4 oz)
16,000
18,000
American Eagle Gold Coin (1/10 oz)
100,000
120,000
American Eagle Silver (1 oz)
3,240,000
9,662,000