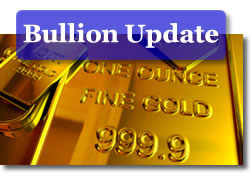 U.S. gold prices declined 2.0 percent and to a more than three-week low Monday as the U.S. dollar gained against the euro over concerns of a Greek debt default.
"What's different about the euro zone crisis this time is people are moving straight to cash instead of looking at alternative safe assets like gold," Reuters quoted David Meger, metals trading director at Chicago's Vision Financial Markets.

"Also, there's a contingent out there that feels that gold has gone up too fast, too soon, and that it needs to correct more to bring back that real strong support or value buying or bargain hunting."
Gold prices declined $35.80 to settle at $1,778.90 an ounce in the December futures contract on the Comex in New York. The closing price was the lowest since August 25. Gold moved between an intraday low of $1,775.20 and a high of $1,832.90.
Despite recent yellow metal losses, Bloomberg reports that Tony Hall, the hedge-fund manager who earned 33 percent for his clients this year, sees gold at $2,200 by the end of 2011.
"The fear of recession, the fear of worse economic numbers is weighing on commodities and stopping gains from fundamentals from coming through," Hall was quoted.

"We still believe in the gold story. If you believe the world is in trouble or in further economic growth disruption, then gold is a good safe haven. If you believe that the world is going to come out okay, then it's a good inflation hedge."
Silver prices for December delivery plummeted $1.668, or 4.1 percent, to close at $39.163 an ounce. The white metal traded from $39.030 to $40.900. Jim Wyckoff of Kitco Metals Inc. wrote the following of the metal in the Monday Kitco Roundup:
"December silver futures prices closed near the session low Monday and hit a fresh four-week low. The silver bulls still have the slight overall near-term technical advantage, but did fade again Monday and do not want to see follow-through selling pressure on Tuesday that would produce some fresh chart damage.

The key 'outside markets' were bearish for silver Monday as the U.S. dollar index was sharply higher while crude oil prices were sharply lower. Bulls' next upside price objective is producing a close above strong technical resistance at last week's high of $41.60 an ounce.

The next downside price breakout objective for the bears is closing prices below solid technical support at $38.81. First resistance is seen at $39.50 and then at $40.00. Next support is seen at $39.00 and then at $38.81. Wyckoff's Market Rating: 5.5."
Platinum prices for October delivery dropped $41.90, or 2.3 percent, to settle at $1,772 an ounce, ranging between $1,766.60 and $1,829.90.
Palladium prices for December delivery declined $20.85, or 2.8 percent, to close at $712.10 an ounce. Prices moved from $710.25 to $736.20.
London Precious Metals Fixings
Precious metals in London were unchanged to mixed. In Friday to Monday PM fixing comparisons, both gold and platinum remained unchanged. The London gold Fix was $1,794.00 an ounce while platinum was $1,798.00 an ounce. Silver advanced 49.0 cents to $40.46 an ounce. Palladium declined $11.00 at $721.00 an ounce.
U.S. Mint Bullion Coin Sales
U.S. Mint bullion coin sales levels remained unchanged from Friday as of 3:40 p.m. ET. The latest daily, September and year-to-date bullion coin sales figures follow:
Sales of U.S. Mint American Eagle and Buffalo Bullion Coins
Daily
Gains
September
Gains
YTD
2011
Gold Eagle Coin (1 oz.)
0
23,000
695,500
Gold Eagle Coin (1/2 oz.)
0
0
61,000
Gold Eagle Coin (1/4 oz.)
0
0
70,000
Gold Eagle Coin (1/10 oz.)
0
15,000
335,000
Gold Buffalo Coin (1 oz.)
0
5,000
124,500
Silver Eagles (1 oz.)
0
1.043M
29.994M
Sales of America the Beautiful 5 Oz. Silver Bullion Coins*
YTD
2011
Gettysburg National Military Park 5 oz. Silver Coin
126,700
Glacier National Park 5 oz. Silver Coin
126,700
Olympic National Park 5 oz. Silver Coin
81,300
Vicksburg National Military Park 5 oz. Silver Coin
28,800
Chickasaw Park 5 oz. Silver Coin
17,700
TOTAL
381,200
*The Gettysburg and Glacier America the Beautiful Five Ounce Silver Bullion Coins are sold out. Unlike other investment-grade products, the United States Mint does not provide daily per coin sales totals for the Olympic, Vicksburg, and Chickasaw America the Beautiful Five Ounce Silver Bullion Coins. The totals are as of Monday, September 12.