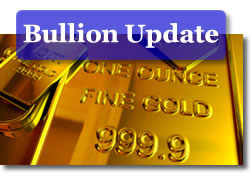 U.S. gold futures retreated toward a three-week low and below $1,800 an ounce Thursday after the European Central Bank announced plans coordinated with other central banks to lend U.S. dollars to stem the credit crisis.
"It's the denial stage that's taken hold of all the markets — (a belief) that everything's going to be fine, the EU and U.S. leaderships can manage to put their economies to rights," Reuters quoted VM Group analyst Carl Firman.

"I don't think that is the case, and I think it's only a matter of time before that comes home to roost. The gold price is probably going to benefit from that."
Gold prices lost $45.10, or 2.5 percent, to $1,781.40 an ounce in the December futures contract on the Comex in New York. Until Thursday, gold had not been under the $1,800 an ounce level since August 29. Gold ranged from $1,775.00 to $1,829.70.
"The next target for bullion as projected by polled traders in New York is near the $1,688.00 area — something that is still $100 away but a possibility that has nevertheless increased significantly as the risk-off trade makes its presence felt in various asset classes," wrote Jon Nadler, Senior Analyst at Kitco Metals Inc.

"Do note that gold declined on a day when an increase in initial jobless claims filings, a dip in the Empire State's manufacturing activity index, and a rise of 0.4% in August US consumer prices might have otherwise lent more than just a helping hand to bullion values."
Silver prices for December delivery declined $1.032, or 2.5 percent, to settle at $39.501 an ounce. Silver prices traded between $39.400 and $40.850.
Platinum prices for October delivery fell $35.30, or 1.9 percent, to $1,780.60 an ounce on the New York Mercantile Exchange. Prices ranged from $1,776.30 to $1,822.20.
Palladium was the outlier in precious metals. Palladium prices for December delivery advanced $2.50, or 0.3 percent, to settle at $723.50 an ounce. Palladium touched an intraday low of $714.00 and reached a high of $729.10.
London Precious Metals
Earlier fixed London precious metals declined. In London Fix price comparisons between Thursday (PM) and Wednesday (PM):
Gold declined $36.50 to $1,782.00 an ounce,
Silver prices fell 89.0 cents at $40.34 an ounce,
Platinum lost $23.50 to $1,792.00 an ounce, and
Palladium declined $7.00 at $716.00 an ounce.
U.S. Mint Bullion Coin Sales
On Thursday, Buffalo Gold bullion coins advanced 1,000 and Silver Eagle bullion coins rose 42,000, according to published U.S. Mint sales data. The bullion Gold Eagles came in at zero, although late Wednesday the Mint indicated that the one-ounce size added 4,500 and the one-tenth ounce size added 10,000.
In other U.S. Mint news Thursday, the bureau released the uncirculated Silver Eagle. The collector coin was last minted in 2008. Years 2009 and 2010 were canceled due to the unprecedented demand for the bullion Silver Eagle.
The latest daily, September and year-to-date bullion sales figures are tabulated below:
Sales of US Mint American Eagle and Buffalo Bullion Coins
Daily
Gains
September
Gains
YTD
2011
Gold Eagle Coin (1 oz.)
0
23,500
695,500
Gold Eagle Coin (1/2 oz.)
0
0
61,000
Gold Eagle Coin (1/4 oz.)
0
0
70,000
Gold Eagle Coin (1/10 oz.)
0
15,000
335,000
Gold Buffalo Coin (1 oz.)
1,000
5,000
124,500
Silver Eagles (1 oz.)
42,000
968K
29.919M
Sales of America the Beautiful 5 Oz. Silver Bullion Coins*
YTD
2011
Gettysburg National Military Park 5 oz.
126,700
Glacier National Park 5 oz.
126,700
Olympic National Park 5 oz.
81,200
Vicksburg National Military Park 5 oz.
28,800
Chickasaw Park 5 oz.
17,500
TOTAL
381,200
*The Gettysburg and Glacier America the Beautiful Five Ounce Silver Bullion Coins are sold out. Unlike other investment-grade products, the United States Mint does not provide daily per coin sales totals for the Olympic, Vicksburg, and Chickasaw America the Beautiful Five Ounce Silver Bullion Coins. The individual totals are as of Friday, September 2, while the combined total is as of Monday, September 12.