U.S. gold prices dived below $1,400 an ounce and nearly $2 of silver's previous gains melted away Tuesday as the crisis in Japan fueled a global selloff in commodities and stocks. The two precious metals fell the most since January 4 with respective losses of 2.3 and 4.8 percent.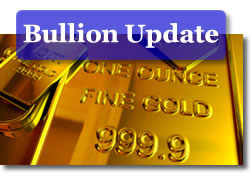 April gold prices declined $32.10 to settle at $1,392.80 an ounce on the Comex in New York. Gold was traded as low as $1,380.70 and as high as $1,429.00.
"The crisis in Japan has spilled over into extreme anxiety and uncertainty in most markets worldwide. 'When in doubt, get out' is the old trading adage that investors invoked Tuesday, as they moved out of perceived riskier assets and to the sidelines or into cash and U.S. Treasuries," wrote Jim Wyckoff of Kitco News.
Silver prices for May delivery plummeted $1.723 to $34.117 an ounce. Silver ranged between $33.565 and $35.955.
Platinum prices for April delivery dropped $46.70, or 2.7 percent, to settle at $1,705.60 an ounce. Prices ranged between $1,692.20 and $1,758.20.
Palladium prices for June delivery plunged $43.30, or 5.8 percent, to $704.90 an ounce. It hit an intraday low of $689.20 and a high of $749.00.
Carmakers use palladium and platinum to make catalytic converters. The closing of plants in Japan and worries over sinking demand is driving the metals lower, opined analysts.
"It is all related to the situation in Japan and some people might have to sell whatever they can to raise funds," Peter Fertig, owner of Quantitative Commodity Research Ltd. in Hainburg, Germany, was quoted on Bloomberg. "With carmakers' plants closed, there is less demand. As long as the situation is uncertain in Japan, the risk is that the knife may fall further."
London PM fix precious metals prices fell as well when compared to their previous PM fixings. The gold fix lost $21.75 at $1,400.50 an ounce. Silver declined $2.30 at $33.88 an ounce. Platinum fell $51.00 at $1,711.00 an ounce. Palladium dropped $52 at $700 an ounce.
Newly released United States Mint coin sales figures did show gains in bullion coins, which appeared muted on Monday. The one-ounce American Gold Eagle bullion coin rose 1,500 while the one-tenth ounce Gold Eagle jumped 20,000. The American Silver Eagle bullion coin rallied 700,000, bringing their year-to-date sales above 11 million. No numbers are available yet for the newly released 2011 American Buffalo Gold Bullion Coin.
The latest gold coin sales and silver coin sales as provided by the Mint follow.
U.S. Mint 2011 Bullion Coin Sales
March
2011 Totals
American Eagle Gold Coin (1 oz)
32,000
235,000
American Eagle Gold Coin (1/2 oz)
4,000
17,000
American Eagle Gold Coin (1/4 oz)
10,000
28,000
American Eagle Gold Coin (1/10 oz)
25,000
145,000
American Eagle Silver (1 oz)
1,417,000
11,079,000