On Thursday, September 15, 2011 at noon Eastern Time, the United States Mint launched the 2011-W Uncirculated American Silver Eagle for $60.45.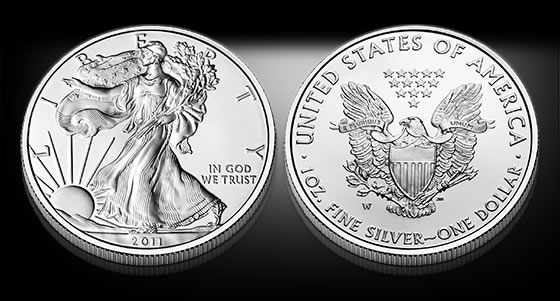 The uncirculated Silver Eagle is reappearing after a two year absence. High demand for the bullion Silver Eagle was listed as the reason for not minting an uncirculated 2009 or 2010-dated strike.
When 2010 Proof American Silver Eagles debuted after their one year hiatus, more than 273,000 sold in the first three days. Although demand for the uncirculated coin is not expected to be as colossal as the 2010 proof, they are expected to spring out of the gate during the first few days. Many collect coins from the Mint's series of American Eagles. Also, the uncirculated coin has no household ordering limits, which will help support higher opening sales.
Two different and previously released 2011 American Silver Eagle coins have been selling extremely well. The United States Mint's network of authorized buyers has already purchased nearly 30 million of the bullion Silver Eagles since their January 3 launch, and 740,946 of the proof Silver Eagles have been scooped up by avid coin collectors since their release on June 30.
All coins in the American Silver Eagle series features Adolph A. Weinman's "Walking Liberty" design on the obverse and John Mercanti's heraldic eagle with shield design on the reverse.
Each uncirculated American Silver Eagle is struck from one ounce of .999 fine silver on specially burnished blanks and features the "W" mint mark, indicating its production at the United States Mint facility at West Point. The uncirculated coin is packaged within a protective clear plastic holder inside a collector box with a Certificate of Authenticity.
Mintages for Past and Current Uncirculated American Silver Eagles
The first uncirculated American Silver Eagle appeared in 2006 with 466,573 sold. Of those, 198,553 were ordered individually, 248,875 were minted for the American Eagle 20th Anniversary Silver Set, and 19,145 were sold in the American Eagle 20th Anniversary Gold & Silver Set.
Sales went up in 2007 to 621,333 but then dropped back down in 2008 to 436,702, according the total mintages listed on the United States Mint's website.
A mintage cap for the latest collector 2011 strike has not been announced, nor is one expected to be published, as that is not the norm.
Where to Order, Possible Pricing Changes
Orders for the 2011-W Uncirculated American Eagle Silver Coin may be placed at http://www.usmint.gov/catalog or at 1-800-USA-MINT (872-6468). Hearing and speech-impaired customers with TTY equipment may order at 1-888-321-MINT (6468). The Mint charges a $4.95 shipping and handling fee on all domestic orders.
As always, the price of the 2011 uncirculated Silver Eagle is subject to change, already having been released at a higher-than-expected price due to soaring precious metals prices.
If the United States Mint decides to make pricing adjustments, sales of the coin will likely be temporarily suspended until the Mint can publish a new price in the Federal Register, the official source of notices by government agencies, before implementing the change.
Uncirculated Silver Eagle also in Upcoming 25th Anniversary Set
This year the United States Mint will issue another anniversary set celebrating the Silver Eagle program. With a current October scheduled release date, the American Silver Eagle 25th Anniversary Set will feature five different one ounce Silver Eagles, including the 2011-W uncirculated strike from West Point. An uncirculated 2011-S version will also be included from San Francisco.